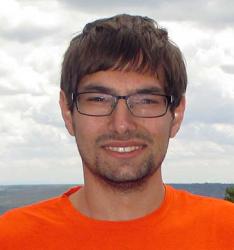 More Than I Imagined
Seniors reflect on accomplishments and look ahead
​Luke Toppel
Graduation year: 2016
Majors: Engineering physics and applied mathematics
Activities: Alpha Phi Omega service fraternity, Relay for Life
Internship: Summer internship with Bergstrom Inc. in its engineering department.
Post-grad plans: Attend Bradley University to pursue a master's in mechanical engineering.
Why Augustana?
Of all the schools I considered going to and visited, Augustana by far felt like the best place for me to grow in just four years. I felt at home when I visited Augustana.
Are you where you thought you'd be four years ago?
I honestly did not know what to expect of myself in four years. I had an open mind when I went away to school, and I tried to not commit myself to a specific major or field of study. I had an idea of who I wanted to be, but knowing from others that so much changes when you go away to college, I tried to give everything a chance, and develop myself as I went along.
Who helped you?
I had an enormous amount of help from a variety of people. In terms of getting to college, my parents and my brothers were big motivators and supporters. Once I went away, I received a tremendous amount of support from my peers. Every day I am challenged by the people around me to be the best that I can be. Being able to surround yourself with a group of friends who can support you and challenge you to be the best version of yourself every day is key to personal growth.
A peak experience?
Following my junior year, I studied abroad in Germany and Switzerland with Dr. Dyer and Dr. Seidlitz. The trip lasted three weeks, but through the dense structure of both the trip and the classes proceeding, I was able to learn and experience so much about the history and culture of the areas we visited. Following the trip, with the help of Dr. Dyer, I was able to get an internship with Bergstrom Inc. in Rockford, Ill., as an engineering intern. There I was able to experience firsthand the types of work that I hope to be doing once I finish my graduate studies.
What has surprised you?
Many of the obstacles that I run into are mostly self-placed. As an individual, many things can be accomplished if you stop limiting yourself and let yourself reach your true potential.
How did you use your Augie Choice?
I used my Augie Choice on my study abroad trip to Germany and Switzerland.
What will you miss the most?
I will miss those days when class gets out and you run into your friends on campus, and you just decide spontaneously to go get lunch. The days that you spend with the people closest to you are days that are never wasted.
Advice for the Class of 2020?
Be open to everything. Don't let your personal bias get in the way of a new experience. And if you try something and find out you truly don't like it, then go ahead and try something else.
"Luke cares about everything he does and all the activities he participates in. In the classroom, he shows a quiet strength, making him a great learner. Outside the classroom, he shows love of service and passion for leadership in the Alpha Phi Omega service fraternity, and as a teaching assistant and tutor for physics. Based on his time here, I am sure that Luke will do well in the future in whatever career he pursues."