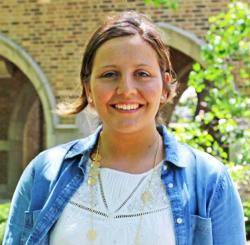 More Than I Imagined
Seniors reflect on accomplishments and look ahead
​Maddie Kerr
Graduation year: 2016
Major: Elementary education, with endorsements in language arts and history
Activities: Three years of varsity basketball, Delta Chi Theta sorority
Internship: Student teacher at Riverdale Heights Elementary in Bettendorf, Iowa
Post-grad plans: Working at my hometown park district while continuing to look for a job that gets my foot into the education world. Searching for a middle school teaching position.
Why Augustana?
I chose Augie not only because of the beautiful campus, but also because of the intimate class sizes and the relationships I could build with my professors. I remember staying for an overnight as a basketball recruit my senior year of high school, and I knew the next morning that this was where I wanted to be for the next four years of my life. The community and atmosphere is what made me choose Augustana.
Are you where you thought you'd be four years ago?
No. I am beyond where I thought I would be. I didn't know I would change so much as a person within the past four years, but the experiences and the people that Augie gave me definitely impacted my entire life.
Who helped you?
I first have to thank my parents and family members for supporting me, along with paying for my college experience. Not many people can say that their parents support whatever decisions they make; however, when I knew I wanted to be a teacher, my parents didn't try to convince me to do something else. Yes, the profession doesn't pay much, but I can say that I will be doing what I love as my job and having my parents' support was a huge help during the process of becoming a teacher and young adult. I would also like to thank the lifelong friends that I have made the past couple of years. Whether it was through the basketball team, in classes or randomly meeting because living arrangements fell through for junior year, I can say that I have a close group of people who I can call not only my friends, but also my new family as well. Lastly, I would like to thank my professors in the education department. The entire department had us thinking like future teachers since day one, and all the work and tasks we were forced to do prepared us for entering the real world. Their open-door policies, honesty and preparation have been phenomenal models of what an excellent teacher and human being is. I know if I had a question, concern or wonderment that I could go to any one of the professors within my department, and they would put down whatever they were doing in order to help me, calm me or answer any of my questions. Without these people in my life, I wouldn't be where I am today and for that I have to thank them.
A peak experience?
I had the opportunity to work with students who had visual and hearing impairments for an entire week at the Florida School for the Deaf and the Blind in St. Augustine, with five other Augustana students. This was an unbelievable experience because not only did I get to work with kids, I also got to experience a different culture through the eyes and experiences of these kids. I explored the expanded core curriculum that this particular school has for its students, which put a huge emphasis on self-advocacy. I presented my findings at St. Louis for the CEC (Conference for Exceptional Children) 2016 with group members who went to the school as well. This was a peak experience for me because as a future teacher, I can now begin to understand what it may be like for students with visual and hearing impairments. At the end of the day, the kids, no matter their abilities or disabilities, are still kids. This is what I will carry with me in my future classroom. To be able to get the experience to work with such a culture was a blessing.
What did you learn about yourself that has surprised you?
I learned about the type of person I want to be from the people I decided to surround myself with. I can say that I am on the right path to becoming that person. I learned that if you do something wrong the first time, don't dwell on it, but instead learn from it. Not everything will go as planned, and I am learning and will continue to encounter this dilemma throughout life. Augie has helped me face this struggle, along with how to overcome it.
How did you use Augie Choice?
I used my Augie Choice to go on a summer trip to Rio de Janeiro, Brazil, with the women's basketball team at Augustana for two weeks. On the trip we not only got to play against some local teams, but also experienced a different culture, travel and work a camp for those who live in the slums of Rio.
What will you miss the most?
I will definitely miss the people the most. The faculty have been so encouraging, challenging and supportive and having them as one of my support systems have been my saving grace. I will also miss the girls that I met through Delta Chi Theta. These girls have been such a huge part of who I am as a person and have also challenged me to try new things. They were my balance between my studies and having fun.
Advice for the Class of 2020?
Yes, studying is important, but make sure you set aside time to hang out with your closest friends or go out somewhere to meet new people. The time goes by really fast, and it is through your interactions with the people you surround yourself with that will make your experience great and memorable.
"It was a privilege to include Maddie in our Florida School for the Deaf and the Blind experience. 'Kindness is the language in which the deaf can hear and the blind can see' is a quote that comes to mind when I think of Maddie's contributions during her FSDB internship. She went 'above and beyond' in assisting students who learn differently. Maddie is patient, passionate, incredibly organized and delightfully dedicated to the art and science of teaching."