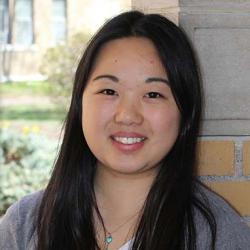 More Than I Imagined
Seniors reflect on accomplishments and look ahead
​Mayu Oya
Graduation year: 2016
Majors: Pre-medicine, biology, neuroscience
Minor: Biochemistry
Activities: Fencing Club, UNYK Multicultural Dance Troupe, Tri-Beta Gamma Sigma, Mortar Board National Senior Honor Society
Post-grad plans: I will be going to the University of Colorado Anschutz Medical Campus for a master's of science in modern human anatomy, and then hopefully going to medical school to become a surgeon.
Why Augustana?
I chose Augustana because of the small class sizes and the close connection to professors. I thought that with such a great connection to faculty, I would be able to get advice from them about my classes and my future. The excellent biology program, including the unique cadaver dissection course, also drew me to attend Augustana. The idea of attending a liberal arts school was another reason why I chose Augustana. Through this liberal arts education, I was able to get experience not only in my field of biology but also in women and gender studies, theater, sociology and more!
Are you where you thought you'd be four years ago?
Not at all. I knew I was interested in medicine and surgery, but I never thought I would be interested in anatomy. After taking the cadaver dissection course, I learned that my way of learning was more visual and kinesthetic, and the dissection definitely helped me to get the 3D aspect of the human body. In addition, I never thought I would be working in the Reading/Writing Center and getting the amazing experience of teaching and helping students. From this RWC tutoring experience, I became more interested in teaching, and hopefully in the distant future, I will be able to teach medical students.
Who helped you?
I have to thank my advisors for helping me find a different route to get into medical school. I would have never thought of doing a master's program if it hadn't been for them. Virginia Johnson, Lucas Street and Jake Romaniello from the RWC also gave me amazing advice not only about writing, reading and study skills, but also about my classes and my future. Without them, I wouldn't have been able to choose my career path and my interests.
A peak experience?
The cadaver dissection course at Augustana was one of the most important experiences for me because this is where I found my interest in anatomy. The dissection experience was something I will never forget. I learned not only about the muscles, bones, nerves and arteries, but also about the importance of these donors and their families.
What did you learn about yourself in these past four years that surprised you?
I learned that I am very interested and fascinated by research and lab work. I got the opportunity to participate in neuroscience research with Dr. Stough, dealing with memory and learning in young chickens. I was able to integrate knowledge from my neuroscience and biology courses to help out during this research process. In the end, I presented a poster with my peers at the Midbrains Conference in Minnesota and at Augustana's Celebration of Learning.
What will you miss the most?
I will miss the close family aspect of Augustana, whether it is from faculty or classmates. There are also so many places to study or hang out with friends on campus. I will definitely miss the beautiful campus!
Advice for the Class of 2020?
Don't be afraid to try new things! Go out and explore your interests. I started fencing because it is such a unique sport and something that I had never done before, and now, I am actively involved in a sport that I love and have made great friends.
"For a course project, Mayu presented our tutor pedagogy class with three origami flowers she had made: precisely folded, creatively designed, colorfully balanced. This bouquet becomes my metaphor for Mayu. She works meticulously, whether on courses or in tutoring. While tutoring, she maintains appropriate decorum, but invents playful, therefore engaging examples for her students. Her life balances gracefully among seemingly disparate activities: pre-med studies and fencing; academic tutoring and ballet. These traits make her a valuable tutor in our Reading/Writing Center."