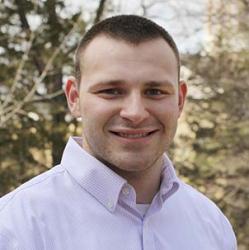 More Than I Imagined
Seniors reflect on accomplishments and look ahead
​Mike Baugh
Graduation year: 2016
Majors: Political science, accounting and economics
Activities: Volunteer Tax Assistance Program, assistant baseball coach at Sherrard High School, two years of varsity baseball (two-time CCIW Academic All-Conference)
Internships: Part-time student position with Deere & Company; assurance intern with PricewaterhouseCoopers
Post-grad plans: Finance Development Program at Deere & Company
Why Augustana?
I enjoyed the tight-knit feel of the community. I grew up in the Quad-Cities metropolitan area and, at that point in my life, I was not too keen on the idea of moving away.
Are you where you thought you'd be four years ago?
Absolutely not. Four years ago I thought I would be preparing for law school in the fall of 2016. I took my first accounting class with Professor Nadia Schwartz in the fall of my sophomore year. I enjoyed the subject and saw the plethora of job opportunities in the field. I added accounting as a second major and never looked back. Both the political science and accounting majors required economics as a prerequisite. I enjoyed the two economics classes I took with Professor Chris Marmé. When I had room left in my schedule in my senior year, it seemed almost natural, albeit a tad bit crazy, to add economics as a third major.
Who helped you get to where you are now?
I've had the privilege to work with some incredible people in both the classroom and my work experiences with Deere & Company and PwC. I owe a lot to Professor John Delaney for pushing me to be more active in my search for job opportunities. I also would like to thank Mamata Marmé for challenging me academically and being one of my most trusted advisors. Last, but not least, 2013 Augustana graduate Ben Heaton was a great mentor whose success gave me something to aspire to.
A peak experience?
It's difficult to isolate a peak experience, but two great moments for me were the two phone calls I received from Deere & Company. The first in March of 2014 informing me that they would like to hire me for the part-time student position. The second occurred a year and a half later when I was informed that they would like to extend a full-time job offer for after graduation. Those were "Will Smith-Pursuit of Happyness" moments.
What has surprised you?
I mentioned that four years ago I was not keen on the idea of leaving the Quad Cities. In the past four years, I've made friends with people from across the country with diverse upbringings and experiences. Four years later, I'm a lot more open to travel and living elsewhere. I'm excited that in my career with Deere & Company I will likely have the opportunity to live somewhere new, which I never envisioned myself willing to do when I got to Augustana.
How did you use your Augie Choice?
I used Augie Choice to cover living expenses related to my internship with PricewaterhouseCoopers in Peoria, Ill.
What will you miss the most?
I will miss seeing the lifelong friends I've made at Augustana every day.
Advice for Class of 2020?
Find a nice balance between planning responsibly for the future and letting things happen organically. One of my pitfalls, especially early on, was that I was overly concerned with my plan for the future. Four years is a long time, and a lot will change. Don't get too wrapped up in your "plan."
"Mike is an extremely talented student that made the most of his time at Augustana. He has not shied away from any challenge in front of him — whether it be internships at Deere & Company and PricewaterhouseCoopers, playing on the Augustana baseball team, volunteering as a high school baseball coach, or participating on our highly competitive AICPA Case Competition Team. Mike is a leader — pure and simple. He is a terrific representative of Augustana, and I have thoroughly enjoyed working with him these past four years."