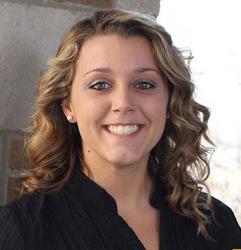 More Than I Imagined
Seniors reflect on accomplishments and look ahead
​Natalie Tomerlin
Graduation year: 2016
Majors: Communication sciences and disorders (CSD), communication studies
Activities: National Student Speech-Language-Hearing Association, Campus Ministries, Sigma Pi Delta sorority, Omicron Delta Kappa leadership society, Order of Omega, Lambda Pi Eta communication fraternity
Internship: Research intern in Augustana's Texas Medical Summer Research Internship Program in Houston
Post-grad plans: Attend Purdue University for a masters of science in speech-language pathology
Why Augustana?
I chose to attend Augustana because of the faculty and staff. The professional and academic faculty are committed to the success of each student both during and after their years at Augustana.
Are you where you thought you'd be four years ago?
No, I am not. And I'm glad I'm not where I thought I'd be four years ago. I have grown in so many capacities that I did not imagine possible. Augustana helped me establish goals and ambitions that keep me eager to learn more and persevere in my field.
Who helped you?
I owe much gratitude to the professors in both of my fields of study, CSD and communication studies. Their guidance and support allowed me to seek opportunities that shaped my personal and professional self. I would also like to thank my parents for their invaluable support throughout my years at Augustana.
A peak experience?
A peak experience was my research internship at MD Anderson Cancer Center in Houston, Texas. I was placed in a fast-paced environment where I was encouraged to use all of my skills in order to excel. It was the biggest learning curve I have ever experienced, and I grew as a professional in my field.
What did you learn about yourself that has surprised you?
I learned how to critique and construct arguments through critical thinking. I have been able to commit to a deeper level of learning while suspending judgment and recognizing underlying assumptions.
How did you use Augie Choice?
I used Augie Choice to travel to Rio de Janeiro, Brazil, with the Augustana women's basketball team. We volunteered in the community and committed to several service-learning experiences.
What will you miss the most?
I will miss learning in a liberal arts environment the most. It has been a privilege to learn from different perspectives within multiple disciplines. I have become a well-educated individual by creating connections between different fields of study.
Advice for the Class of 2020?
Have a willingness to learn and understand. Attending Augustana will challenge your current perception of the world around you. The most successful students are ones who are willing to learn from others' perspectives.
"If you were looking for a friend who would stand by you no matter what, someone who would encourage and challenge you to be your best, it would be Natalie. Natalie is also a doer who is creative and hard-working. She is upbeat, friendly, someone you want to be around, a real gift to the world."