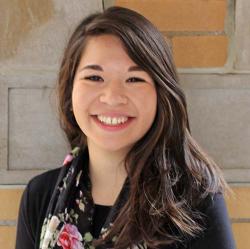 More Than I Imagined
Seniors reflect on accomplishments and look ahead
​Rosa De La Torre
Graduation year: 2016
Majors: Biology, pre-medicine
Minors: Public health, biochemistry
Activities: Augustana Community Health Outreach Organization (ACHOO), Joining Education through Service (JETS), Reading/Writing Center, Tri-Beta Sigma Gama, Mortar Board, ACI peer mentor, medical translator for Cuatro Translating Agency.
Internship: I was a SMART intern at Baylor College of Medicine through the Texas Medical Center Summer Research Internship Program at Augie. I worked in Dr. Kjersti Marie Aagaard's maternal and fetal medicine research laboratory where I helped recruit Hispanic and non-Hispanic pregnant women in a clinical research study focused on gestational diabetes, and I helped with research focused on epigenetic alterations on fetal development in the maternal environment.
Post-grad plans: Attend University of Illinois College of Medicine in Chicago.
Why Augustana?
I first heard about Augustana through my high school biology teacher who shared many of her experiences. At that time, I was interested in eventually attending medical school and when she told me Augie had a great pre-med program, I was automatically intrigued. I fell in love with the school and people the minute I first visited the school. Everyone was so friendly, and the faculty seemed genuinely interested in the success of their students. Eventually Augie became my home away from home. I chose Augie not only because it was relatively close to home but also because I knew I would be seen as a person and not just as a number.
Are you where you thought you'd be four years ago?
Definitely not! I came to college with a clear vision of what I wanted to do: I would go on to medical school, become a physician, and work in an underserved area. I would hear stories of upper classman changing their plans and I was terrified that would happen to me. "But, I have always wanted to become a doctor. There can't possibly be another profession I can go into," I would tell myself. However, as my senior year approached and I began reflecting upon my various experiences and conversations with faculty and professors, I questioned whether becoming a physician was truly my passion. After much discussion with mentors, faculty and my closest friends about nursing and medical school, I arrived to a decision of pursing medicine with a more holistic approach by understanding the importance of addressing a patient's social, economic, and cultural needs above anything else. Our society needs more culturally competent health care providers, and I believe Augustana has definitely prepared me for this new step in my career.
Who helped you?
First and foremost, my family has helped me immensely! Despite the financial burden and stresses of paying for tuition, they have always been there to support and encourage me to keep moving forward, especially my little brothers who always make me laugh after a rough week. I know I wouldn't have been able to make it through these years without their unconditional love and constant support. Gracias, mami y papi por todo lo que han hecho por mí!
My dearest friend, Lizeth Tamayo, challenged me to question my assumptions of others and view life with an open mind, while also encouraging me to take advantage of every opportunity I was given. Lucas and Virginia, directors of the RWC, have been wonderful mentors who have encouraged me to step outside of my comfort zone. Dr. Nathan Frank, my pre-med advisor, has been a wonderful listener and advisor. Dr. Dara Wegman-Geedey introduced me to a career path that will allow me to care for patients in a more compassionate manner. Everyone listed, along with so many other great people, have shaped who I am today. Thank you all!
A peak experience?
Working at the Reading/Writer Center has been truly one of the best experiences. The RWC has been my home for the past three years. Without Lucas, Virginia, Jake and other peer tutors, I would not be the person or writer I am today. From working as a peer tutor, I have realized that tutoring and mentoring go hand-in-hand, which are two activities that I have not only learned to enjoy but have also become second nature to me. Many times students don't just go in the RWC looking for help with their papers; they go in with hopes of finding someone who they can just talk to about their day. The most rewarding sessions were when I not only helped a student with an assignment but also when we both learned something new about each other.
What has surprised you?
As a mentor, tutor and translator, I have realized that I LOVE having one-on-one conversations with others and helping to make someone's life a little bit easier. As a freshman, I was very reserved and timid. In fact, it wasn't until I started working as a peer tutor at the RWC did I become comfortable forming a conversation with others. Although I am an introvert, throughout the years of interacting with students, faculty and professors, I have realized how satisfying it is to just sit down and have a heart-to-heart conversation with someone. It doesn't take an extrovert to start a conversation: It only takes two intriguing minds and a cup of coffee.
How did you use your Augie Choice?
I used Augie Choice to help fund my medical service-learning trip to Nicaragua. However, Augustana does a great job in providing students with resources to further fund and embark on more than one study abroad or internship opportunity. Besides Nicaragua, I also traveled to Guatemala, which was a required component of the Childhood in Challenging Circumstances Learning Community.
What will you miss the most?
Everything and everyone! I will miss sharing a house with the biggest goofballs ever! I will also miss having genuine conversations with faculty and professors. You don't get to talk about your existential crisis with a dear professor as much after you graduate! I will also miss walking around our beautiful campus on a warm, sunny evening. There isn't anything I will not miss! Augie has been my home for the past four years. However, although leaving Augie is a bittersweet feeling, I know all the memories and connections I made while I was here will last a lifetime.
Advice for the Class of 2020?
Don't be afraid to veer off the path you have been so faithfully paving. Instead of fearing the future, embrace the unknown and challenge yourself every day to try new things and meet new people. So enjoy every minute, and remember to always have a positive outlook!
"Rosa exemplifies a graceful balance of intellect, compassion and drive that has directed her through Augustana and made her an effective peer tutor in our Reading/Writing Center. Committed to both community and global health issues, Rosa has chosen many fitting Augustana opportunities, including the Texas Medical Center internship and two service-learning trips to Central America. In the RWC, Rosa generously volunteers to manage extra projects, but clearly her heart is in teaching other students to further develop their skills and confidence."