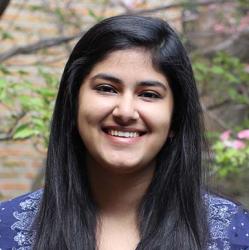 More Than I Imagined
Seniors reflect on accomplishments and look ahead
​Ruchira Laroia
Graduation year: 2016
Majors: Pre-medicine (pre-dentistry), neuroscience
Activities: Augustana Choir, Mortar Board National Honor Society, Sigma Xi Research Honor Society, Chamber Singers, Handel Oratorio Society, Honor Council, Augustana Peer Mentor, Alpha Phi Omega Lambda Rho, national anthem singer for Augustana Athletics.
Post-grad plans: Attend the College of Dentistry at the University of Iowa.
Why Augustana?
I was looking for a strong pre-medicine/biology program, a reputable collegiate choir that included non-music majors, and a liberal arts curriculum. During my college visit, I found Augustana provided all of that and more! The campus was beautiful, the academic reputation was sound, and most importantly, the people were kind.
Are you where you thought you'd be four years ago?
Yes, and no. Four years ago, I had a vague aspiration that I wanted to be involved in health care. My four years at Augustana helped me focus my aspirations toward the goal of becoming a dentist, and my advisor and professors helped me take steps to achieve that goal. Augustana also helped me solidify my identity, especially through sociology, history and other humanities courses.
Who helped you?
Honestly, everyone I have met at Augustana has helped in one way or another. Family and friends gave me support, students exposed me to new perspectives on the world, advisors gave me solid advice, and professors provided me with constructive feedback. Specifically, I would be in trouble, though, if I did not give my parents an extra shout-out for making this whole experience possible. Thank you Mom and Dad!
A peak experience?
Planning Holi, the festival of colors, with Augie International this year was definitely a peak experience. I joined in the planning only in the last month, but I felt like I found people who really understood my identity. Celebrating a South Asian festival on campus was also really fun! Seeing students, professors and administrators of all different backgrounds participating in my culture was an exciting and affirming experience. I also enjoyed touring with the Augustana Choir, an annual experience. It was always moving; every tour felt like an adventure.
What did you learn about yourself that has surprised you?
I came into college thinking that I would join a few clubs, get my degree and leave. My priorities were clear coming in: get good grades and participate in a couple extra-curricular activities. I learned that I can handle much more than I expected I could and that I am happiest when I am involved and doing work I love. I did not expect to become emotionally attached to Augustana, to find some of my best friends and to be as involved as I became. I'm really going to miss my time at Augustana!
How did you use Augie Choice?
Medical service-learning with ACHOO JETS in Nicaragua. Prospective students, if you are thinking about a profession in health care, take advantage of this amazing program! Aside from that, I toured with the Augustana Choir to the Midwest, California, Sweden, Germany and Denmark.
What will you miss the most?
I will miss singing with my friends in the Augustana Choir almost every day for an hour and 15 minutes. It was always the highlight of my day!


Advice for the Class of 2020?
Give your time to the people and organizations you love. In the face of opposition to your dreams, always ask, "Why not me?" Take time to enjoy the world around you. Stay open to new experiences. Seek out experiences that make you a little bit uncomfortable. Do not fear vulnerability.
"Ruchira embraced the whole Augustana experience. She took advantage of the science curriculum and the music program, and promoted South Asian culture on campus. She was a joy to advise and help prepare for her successful admission to dental school. It was never about the grades. Instead, it was about the opportunities to learn and experience new ways of approaching, strengthening and affirming her values and skills. Ruchira's positive outlook on challenges always kept her moving forward."