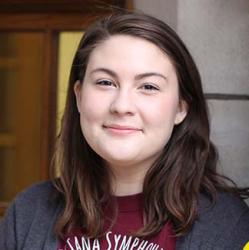 More Than I Imagined
Seniors reflect on accomplishments and look ahead
​Sarah Bromberger
Graduation year: 2016
Major: Music education
Activities: Sigma Alpha Iota (international music fraternity), Augustana Hillel (Jewish student organization), National Association for Music Education, Symphonic Band, Symphony Orchestra
Internships: Student teacher at Colona (Ill.) Grade School and Northeast Junior High School in East Moline, Ill.; service learning internship at Fillmore Elementary in Davenport, Iowa.
Post-grad plans: Find a job teaching K-8 music and band!
Why Augustana?
I chose to attend Augustana based on the recommendation from my high school band director, an Augustana grad. During my first visit to campus, I couldn't get over how friendly and welcoming the staff and faculty members were. I felt at home instantly and knew that Augustana was where I wanted to attend school.


Are you where you thought you'd be four years ago?
Absolutely not. I came to Augustana with many interests and was very unsure of what I really wanted to study. After finishing my first year at Augie, I worked at a music camp during the summer. I loved getting to work with the students and helping them to grow and succeed musically. I am so thankful for this experience because it helped me to realize that I wanted to become a music educator! I also joined many clubs and organizations that I never thought I would be involved in, such as Augustana Hillel and Sigma Alpha Iota.
Who helped you?
First and foremost, my parents. They supported me financially while encouraging me to succeed in my various musical, athletic and academic endeavors. Thank you, Mom and Dad! In addition to the help from my parents, I received an immense amount of support and guidance from various ensemble conductors, private lesson teachers and other music educators. These people helped me get through some of the most difficult parts of my life thus far by mentoring me in ways that changed the way I perceive music education and its influence on students.
A peak experience?
My peak experience and Augie Choice went hand-in-hand. During spring break of 2014, I used Augie Choice to travel to Japan with the Augustana Symphonic Band. We were completely immersed in the Japanese culture. We made our way through Osaka, Kyoto, Hakone and Tokyo, getting to play with a few of Japan's phenomenal ensembles. The entire trip was itself a peak experience, a life-changing experience that I will never forget.
What has surprised you?
I learned that mistakes are inevitable; it is the act of recovering from them that matters most. By making a few mistakes and learning how to recover from them, I realized that anything is possible with some hard work and determination.
What will you miss the most?
Within the music department, I will really miss the family-like atmosphere with the students and faculty. By the time you are a senior, your relationships with people become more genuine and personal. In general, I will miss the beauty that Augustana's campus has to offer. There's nothing quite like seeing Augustana change throughout the seasons!
Advice for the Class of 2020?
Do not limit yourself. Be open to new ideas and opportunities! You never know what you'll come across.
"To watch students discover their career passions is one of the favorite aspects of my job. The discovery is a unique journey for each student, and Sarah's quest was no exception. She entered Augustana searching for her ideal career. Like many of our students, she has a multitude of interests and is gifted in several areas. For Sarah, it became a matter of how to combine her many talents into a career. By the opening of her junior year, she knew that passion was teaching music to young students."