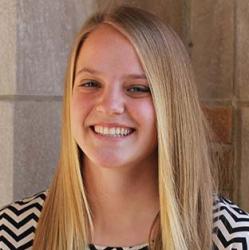 More Than I Imagined
Seniors reflect on accomplishments and look ahead
​Somer Druskowski
Graduation year: 2016
Activities: Varsity soccer, Concert Band, Reading/Writing Center, Opportunity Kicks tutor, Camp Kesem, Order of Omega, Omicron Delta Kappa and Phi Rho sorority
Internship: I was a student teacher at Bettendorf (Iowa) High School. I taught contemporary world literature, writing fiction, and mass media.
Post-grad plans:Teach English and language arts at the high-school or middle-school level

.
Why Augustana?
I chose to attend Augustana for a variety of reasons. I valued the small class sizes and the small teacher-to-student ratio because I knew those factors would provide me with opportunities to really get to know and learn from my professors and classmates. In addition, after visiting the school and talking to students, professors, coaches and directors, I was assured I would be able to continue doing all the activities that I enjoyed so much and that helped me grow as an individual in high school.
Are you where you thought you'd be four years ago?
I am far better off than I ever imagined I could be! Augustana provided me so many different opportunities and experiences I couldn't have dreamed of four years ago. The education program enabled me to teach in diverse schools as early as my sophomore year and provided me with multiple opportunities to present at conferences. The varsity soccer team won the CCIW title my freshman year, made three appearances in the NCAA tournament and traveled to Italy together. Being in the Phi Rho sorority gave me confidence and lifelong friends that I probably would not have met otherwise.
Who helped you?
There are an endless number of people who have helped me. First and foremost, I have to thank my mom and the rest of my family for always supporting me and for making it possible for me to have the experiences at Augustana that I have enjoyed so much. In addition, ALL of my education professors, soccer coaches, band directors and the faculty members in the Reading/Writing Center definitely helped me through my journey by setting high standards of achievement, motivating me to work hard, and being incredibly flexible and supportive of my attempt to balance so many different interests.
A peak experience?
My peak experience was traveling to Italy with my soccer team the summer before my junior year. While we were there, we played three games and spent the remainder of the time touring the beautiful country. I consider it a peak experience because I was able to travel to another country with all of my best friends by my side, which not many people get to do. This experience was made possible for me due to the financial assistance Augie Choice offers for students to travel abroad.
What has surprised you?
In high school, I think I was so afraid of failure that I never tried anything that I wasn't 100 percent confident I would succeed in. My experiences at Augustana have helped me develop the confidence needed to try new things, to strike up a conversation with someone I've never met before, and to take risks, despite not knowing what the outcome will be.
What will you miss the most?
A lot of students say that we live in an 'Augie Bubble' and that we never leave it. All jokes aside, I love the overall environment. I enjoy walking around the beautiful campus and knowing nearly everyone I pass, and I appreciate how much support Augustana students show for their peers, whether it is showing up to watch each other compete, perform or present research. I will truly miss the sense of community at Augustana the most. 

Advice for the Class of 2020?
Enjoy every minute of it because it seriously goes by so fast! Don't be afraid to spend too much time in the Center for Student Life with your friends, take advantage of all the different activities that Augustana offers, and join a new group each year.
"Somer exemplifies the best Augie student, both in her wide-ranging interests and her curious mind. She has worked hard in her classes, in her sport and in her tutoring job. She made time to do volunteer work and still have a social life. Somer took advantage of the full Augie experience, and she is going to represent us well as she teaches the next generation."