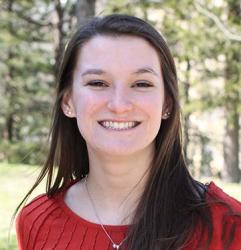 More Than I Imagined
Seniors reflect on accomplishments and look ahead
​Stephanie Sorrentino
Graduation year: 2016
Major: Elementary education
Minor: Spanish
Activities: America Reads Program, Delta Chi Theta sorority
Internship: Student teacher for the third grade at Logan Elementary School in Moline, Ill.
Post-grad plans: I am applying to teaching jobs right now! I will hopefully be an elementary school teacher in the Chicago area next year. I will eventually be looking to get my master's.
Why Augustana?
I knew Augustana was known for its education program, and I didn't want to be just another Illinois State University graduate in my family. I wanted to be different from my relatives who are teachers. When I first visited Augie, I was obviously overwhelmed by the beauty of the campus, but what really drew me in was the friendliness of everyone walking around campus. Everyone said 'Hi' to me! After that visit, I knew this was the school for me!
Are you where you thought you'd be four years ago?
Definitely not—I have accomplished so much more than I thought I would. I always knew that I wanted to be a teacher, but my experiences and the friendships I have made at Augie helped me grow into a person I am proud to be!
Who helped you?
My family and friends have been my anchors and have helped me accomplish many goals throughout my four years. My professors have also been extremely encouraging throughout my college career. All of those people have been a wonderful support system for me at home and at Augie.
A peak experience?
I studied abroad in Ecuador for 10 weeks the summer before my junior year. It was an amazing experience because I was totally immersed in the Ecuadorian culture. The memories I have with the people I met and places I visited will never be forgotten, and I plan on returning there someday!
What did you learn about yourself that has surprised you?
I am surprised by how much I have grown as a person. After meeting new people and traveling to Ecuador, I have realized that the relationships you build are the most powerful tool you can have. I am so thankful that I branched out and met some awesome people in my four years here who have truly changed my life for the better.
How did you use Augie Choice?
I used my Augie Choice to study abroad in Ecuador.
What will you miss the most?
I will miss the people the most. There is a true sense of community on Augie's campus and I think it will be difficult to find a community this powerful elsewhere. During these four years, I have met some fantastic people that I will truly miss seeing every day.
Advice for the Class of 2020?
Try something new. Whether it's studying abroad, joining a club or even introducing yourself to someone new, getting out of your comfort zone will open up so many opportunities and allow you to meet extraordinary people.
"Steph makes classes smarter and shinier than they are without her. Maybe because she listens. Really listens. She's alert and engaged and you can feel her mind flexing, broadening, working its way through an idea or an image. She's also deeply compassionate and dedicated; if all the world's children could have teachers like her, it would be a smarter, shinier, more compassionate world."