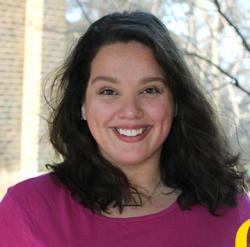 More Than I Imagined
Seniors reflect on accomplishments and look ahead
​Suzie Geisler
Graduation year: 2016
Majors: Psychology and Spanish
Activities: College Democrats, Mortar Board Honor Society, Psi Chi Honor Society, Psychology Club, Phi Beta Delta Honor Society, Global Connections, Phi Beta Kappa.
Internships: Teacher's assistant at Casa de los Niños, a Spanish/English bilingual preschool in Moline, Ill.
Post-grad plans: Attend Northern Illinois University for a master's in counseling with an emphasis in clinical mental health counseling.
Why Augustana?
I chose Augustana because I knew I would be seen as a person and not as a number. I was drawn to Augie because of the low student-faculty ratio, small class sizes and its commitment to seeing students succeed. When I visited campus, sat in on classes and talked to faculty and students, there was no doubt in my mind that this was the school I wanted to attend.
Are you where you thought you'd be four years ago?
Yes and no. I came to Augie with a general idea of what I wanted to study, what kind of career I wanted and the population with which I'd like to work. I still ended up studying psychology and Spanish, but I never thought I would be a double major. I threw around the idea of a Ph.D. in counseling psychology for a while, but ultimately decided a master's in counseling was a better fit. I always thought I would work with young children, but my clinical experience at the Robert Young Center exposed me to counseling adolescents, and I found out I loved it
Who helped you?
My family — especially my parents — supported me every step of the way, and I would not be the person I am today without them. My psychology advisor, Dr. Jessica Schultz, encouraged me to take advantage of every opportunity I was given, and I would have missed out on incredible experiences if she hadn't given me that extra push. My Spanish advisor, Dr. Araceli Masterson, enabled me to think critically about what it means to be an ethical global citizen. Dr. Matthew Weeks instilled in me a love of research. Dr. Ana Bordería García helped me to become a better Spanish speaker through SI advising, tutoring and tertulias recommendations, and hours of great conversation in her office. Everyone listed — and so many others — played a significant role in my life these past four years, and I am unbelievably grateful for all they have done.
A peak experience?
Without a doubt, studying abroad in Ecuador was my peak experience, and possibly the best thing I ever did. During the summer of 2014, I spent 11 weeks opening my eyes to a different part of the world, immersing myself in all that Cuenca had to offer, and learning about myself and my values. I entered as a stranger, but I left with family. Perhaps most importantly, I gained an incredible amount of confidence in myself and my Spanish-speaking abilities. Because of my time abroad, calling myself bilingual finally felt right.
What has surprised you?
I learned that I could handle so much more than I thought I could. I was highly involved, had heavy course loads, and saw my friends as much as possible. It wasn't always easy, and things didn't always go the way I had hoped. But my involvement and my setbacks helped me realize that I am resilient and can handle what life throws at me.
How did you use your Augie Choice?
I used Augie Choice to help fund my summer abroad in Ecuador.
What will you miss the most?
I'll miss being in close proximity to people I care about and seeing them on a regular basis. While I'm excited to start a new adventure in graduate school, Augie is my home — it's going to be hard to say goodbye.
Advice for the Class of 2020?
Manage your time so you can take advantage of everything college has to offer. These next four years will be filled with amazing opportunities to see the world, learn, make new friends, and get involved on and off campus. You can do all these things (and more!) if you stay organized and use your time wisely.
"Suzie has immersed herself fully in her education at Augustana, and it has been a joy to see her grow holistically during her time here. She has excelled academically and engaged fully in learning outside the class through two study abroad experiences, leadership in student organizations and rich internship experiences. Passionate and hardworking, Suzie is an engaged citizen who cares deeply about social justice and is committed to using her talents and skills to ethically address areas of need in our world."