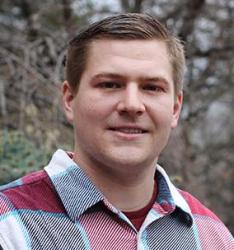 More Than I Imagined
Seniors reflect on accomplishments and look ahead
​Taylor McGinnis
Graduation year: 2016
Major: Teaching history
Activities: Varsity lacrosse
Internships: Student teacher at Moline High School; intern teacher at LearningWorks: A Breakthrough Program
Post-grad plans: Become a high school social studies teacher in the Chicago area
Why Augustana?
I knew this was a place where I could continue participating in lacrosse as well as receive a fantastic education. 


Are you where you thought you'd be four years ago?
Absolutely not! I originally attended Ohio Wesleyan University as a freshman and sophomore, and I had planned on majoring in accounting.
Who helped you?
My family has been the most important factor that has helped me get where I am...most notably my brother Zachary, who graduated from Augie two years ago. When I was thinking about transferring, he was extremely supportive of me joining him at Augustana. It made it seem like a home away from home.
A peak experience?
Being able to collaborate with my history professors to find an abroad summer internship was probably my peak experience. Since I was involved in athletics it was hard to find any time to spend abroad during the school year, so I set my sights on the summer of 2014. After presenting this to several history professors, they worked together to help me find a summer research project in Costa Rica. It was a great experience that would not have been possible without the help of Dr. Cabrera [Geserick] and Dr. Calder.
What has surprised you?
Realizing that I wanted to become a teacher was a great surprise to me. I had never thought about it until sophomore year, but I now realize it's one of the best decisions I've ever made.
How did you use your Augie Choice?
I used my Augie Choice to help fund my research project in Costa Rica.
What will you miss the most?
Definitely being a part of the lacrosse team. It's very special to be a part of a group of people who work as hard as possible to achieve a common goal.


Advice for the Class of 2020?
Create lasting relationships. Talk to as many professors and people as you can.
"Taylor and I had hardly gotten acquainted when he asked if I could find him a museum internship. Before I could place him he arranged one on his own at the Rock Island County Historical Society. After only one course, Taylor asked if I could find him historical work to do in another country. So Dr. Cabrera Geserick took him to some amazing archives in Costa Rica for a summer of research using Augie Choice funds. That's how it is with Taylor: an athlete and a scholar, he shows that college is what you make of it."