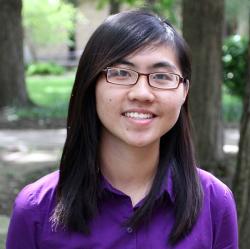 More Than I Imagined
Seniors reflect on accomplishments and look ahead
​Thanh Le
Graduation year: 2016
Majors: Communication studies, psychology
Activities: International Student Club, UNYK Dance Troupe, WAUG student radio, Multicultural Student Life, Relay For Life
Internships: Summer internship in Washington, D.C., with Stop Child Abuse Now of Northern Virginia; also NAMI of Greater Mississippi Valley in Davenport, Iowa, and Augustana's EDGE Center
Post-grad plans: I have no definite plans at this moment, but I'm thinking about taking some time off to travel and then find a job in the Northwest or apply to grad school.
Why Augustana?
I'm an international student from Hanoi, Vietnam. I learned about Augie through an interesting chain of coincidence and eventually chose to attend because of the beautiful campus and close-knit community, as well as the generous financial support. Without it, I wouldn't be able to afford to be here for all four years.
Are you where you thought you'd be four years ago?
Yes and no? I first came to college feeling relieved that I could procrastinate being an adult for a few more years, with no plans and little idea of what I wanted to do. Four years have passed by, and I have learned so much and found many interests that open a lot of possibilities ahead so I still haven't decided on any plans yet!
Who helped you?
I have to say everyone! My advisors, Dr. Varallo and Dr. Schultz, and the Holden Term program director, Dr. Calder, are amazing mentors whose wisdom and kindness guided me through. My professors, especially Dr. Araceli Masterson, Dr. Corts and Dr. Popple, shared their great knowledge and were gracefully patient with my endless questions. My dear family, halfway across the world from me most of the time the last four years, is always there for me with tremendous love and support. My friends, well, you know who you are (especially those who just cannot give me a break). The staff in the Office of International Student Life, who have been taking care of us since our very first day on campus. CORE staff, who are dedicated to helping us navigate our career path. Faculty members, who generously have international kids over on special occasions or during breaks so we can enjoy the holidays while being away from home. Also, random kind strangers in Chicago, who offer to help when they see this tiny Asian struggling with suitcases twice her size at the airport or on the subway. Literally, everyone!
A peak experience?
My peak experience was to study 'abroad' while studying abroad (since I'm an international student) during Winter Term in Holden Village in Washington State my sophomore year. Spending six weeks in the mountains and among Holden's amazing community, full of hospitality and companionship, with a core group of Augie students and professors, was such a phenomenal experience. We studied a very fitting combination of classes, appreciated the beauty of nature and serenity of the wilderness, built connections and made new friends every day, enjoyed quality time and great conversations, yet still found the time to produce a musical! The wonderful time at Holden gave me the peace of mind and a much-needed break from everything going on that year, and I couldn't be more happy and grateful for all the experiences I had, the things I learned and the friendships I made that I will forever treasure. ❤ Another peak was that I happened to be in Washington, D.C., when the Supreme Court passed the law for marriage equality—what a day to be in the capital! I got to visit the courtroom where the complicated process went through just to affirm the simple message: love is love.
What did you learn about yourself that has surprised you?
Besides the fact that I could be even more of a multitasker than I already was, my time here at Augie has allowed me to explore new possibilities and discover my potential in ways I never really expected. I love how much I've learned and grown in the last four years. It makes me realize I have a lot to offer and contribute to make a difference in the world out there.
How did you use Augie Choice?
I used my Augie Choice for my time spent in Washington, D.C., during the summer of 2015. I interned with a non-profit organization called Stop Child Abuse Now of Northern Virginia.
What will you miss the most?
Conversations and quality time with my friends and professors through which I learn new things and bring me joy (almost) every day.
Advice for the Class of 2020?
Be spontaneous—you have no idea where the next adventure(s) will take you! And, very important: remember to take naps!
"Thanh has been on a journey during her time at Augie! It has been my pleasure to work with her and witness her growth over the past three years in the non-traditional off-campus classroom of Holden Village, to 'typical' courses on campus, and to her culminating work addressing stigma and mental illness for her Senior Inquiry work. She brings a keen intellect and quiet wit to all she encounters, and I am sure she will thrive in the world beyond Augie."