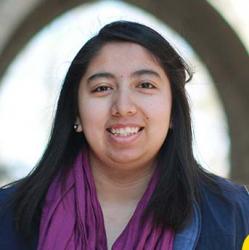 More Than I Imagined
Seniors reflect on accomplishments and look ahead
​Urid Pacillas
Graduation year: 2016
Major: Secondary education (history)
Minor: French
Activities: Latinos Unidos, Multicultural Programming Board, Office of Student Life and Leadership, Opportunity Kicks Tutoring, Sigma Kappa Tau sorority, Symphony Orchestra
Internship: Student teaching at Pleasant Valley Junior High in LeClaire, Iowa.
Post-grad plans: Teach in a middle school/junior high school in an urban area, preferably back home in the northwest suburbs of Chicago.
Why Augustana?
I chose Augie because it just felt like everything I wanted, and more was at my disposal. My major has a well-known program here, and I could continue my love for the viola because even as a non-music major, I was allowed to play in the orchestra. Augie also had a supportive array of financial aid and scholarships that lessened some of the financial burden. Best of all, everyone was friendly, and it was a community I wanted to be a part of.
Are you where you thought you'd be four years ago?
I am, and in a sense, I am further than I imagined. I have held several leadership roles, such as my Greek chapter's president, and I feel confident in my abilities as an educator after my student-teaching experience.
Who helped you?
My family. My parents have supported my dreams and have worked with me to get past the financial and academic stresses we've faced these past four years.
A peak experience?
A peak experience was my student-teaching placement. In a sense I got to be a teacher for 10 weeks, going to my school every day and being a lead teacher for a whole unit. It was a peak experience because it reaffirmed my passion for teaching.
What has surprised you?
I was surprised to see myself take on leadership roles. I am a shy person, but I have been vice president, president and a committee co-chair, and I have gained experience and skills that I believe will make me a proactive educator and citizen. I am surprised that I feel a sense of sadness when I think of graduating, but Augie has really become a home away from home.
How did you use your Augie Choice?
I used it to pay for rent and other expenses during my student-teaching experience.
What will you miss the most?
The friends, faculty and advisors I have worked with. They have pushed me to reflect, lead and explore. I will also miss the sense of belonging to the Augie culture, a community.
Advice for the Class of 2020?
Don't be afraid to change your mind. These four years are about finding out what you do and don't love, trying out new experiences whether it be clubs, sports or Greek life, and broadening your understanding of the world and your role in it. Enjoy it while it lasts!
"Urid is a great person to know. Her participation in the viola studio and orchestra as a non-major is one example of a wide-ranging curiosity that complements her innate intelligence. Urid is also tough. During the past four years, I have never seen her back away from a challenge. I have also seen her commitment to helping others in their struggles. These are just a few of the qualities that will help her become a wonderful teacher and mentor. I have learned a lot from Urid during our work together these past four years, and I am proud that she goes out into the world as an example of an Augustana student."