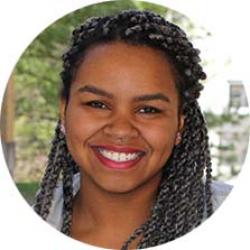 More Than I Imagined
Seniors reflect on accomplishments and look ahead
​Vicky Gillon
Graduation year: 2016
Majors: Sociology and religion
Activities: Interfaith Understanding, Black Student Union, AugiEquality, Micah House Intentional Community
Internship: World Relief in Moline, Ill.
Post-grad plans: I will be going for my master of divinity at Union Theological Seminary in New York City this fall.
Why Augustana?
I loved the campus when I visited. Out all of the schools I visited, I remember the people at Augie being especially warm and welcoming. The small class sizes as well as the potential to form lasting relationships with faculty and staff members were important factors in making my decision.
Are you where you thought you'd be four years ago?
Definitely not! I thought I would be on my way to graduate school for school psychology. However, being a part of Interfaith Understanding my freshman year really changed the course of my college education. I began to become more interested in faith, religion and different cultures. My sociology and religion majors have allowed me to think critically about the society that I live in.
Who helped you?
The sociology and anthropology department as well as the religion department have some of the best professors on campus! Dr. Croll has been a great mentor within the sociology department in helping me enact social justice initiatives in my surrounding community. Dr. Mahn and Dr. Morris in the religion department have been awesome mentors, especially in my discernment process on life after I graduate. These individuals have not just been great academic advisors, but also wonderful life coaches and great friends.
A peak experience?
A peak experience on campus has been leading one of the protests for #BlackLivesMatter. During the process of planning the protest, I made lifelong friends with students from all over campus. I am still proud of the path we paved for oncoming generations of Augie students to let their voice be heard no matter what. I also had the opportunity of going to Holden Village this past winter term. It was an amazing experience where I was able to live in an intentional community surrounded by mountains. At Holden, I didn't have to depend on technology to have a good time and build community... that's why I loved it!
What has surprised you?
When I became a junior, I started to gravitate to more leadership roles on campus. From being the president of Interfaith Understanding to leading a protest on campus, these past two years especially have allowed me to see how much of a leader I could be.
How did you use your Augie Choice?
I used my Augie Choice to complete an internship at World Relief in Moline, Ill.
What will you miss the most?
I will definitely miss the daily interactions with professors and friends I have come to know these past four years. I will also miss the beautiful campus that has become my home away from home.
Advice for the Class of 2020?
Don't treat school like a capitalist! Go for the education, not the grade or the degree. If you go in for the experiences, you will come out of Augustana with so much more to offer everyone around you.
"Vicky's work reminds me why I love the discipline of religious studies. Her scholarship is thorough, responsible and objective. But it also addresses religion's role in America's urgent crises of racial (in)justice. Vicky's work shows the possibilities for undergraduates who seek both intellectual excellence and social responsibility. Graduate schools easily recognized these strengths in her applications. Vicky was admitted to all the schools to which she applied, and will begin her studies at Union Theological Seminary (NYC) in the fall. I am confident that she'll be successful!"