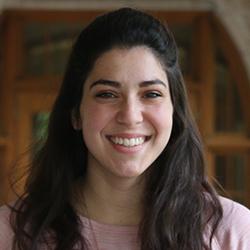 More Than I Imagined
Seniors reflect on accomplishments and look ahead
Emily Graziano
Graduation year: 2019
Hometown: Arlington Heights, Ill.
Majors: Communication studies, business administration-management
Activities: Zeta Phi Kappa honorary member, Jenny Lind Vocal Ensemble, Advertising Developers (ADs), Augie Catholic, Augustana Campus Ministries, Mortar Board
Internships: (1) intern at ALE Solutions in St. Charles, Ill., (2) human resources intern at Flexera in Itasca, Ill.
Post-grad plans: I will be working for the internal communications/organizational development teams as the employee engagement specialist at Flexera in Itasca, Ill.
Why Augustana?
I came to Augustana because I could double-major and participate in all of my extra-curricular activities, but most importantly, I felt like Augustana could be my home away from home. When I was a senior in high school, everyone would ask me about the classic "warm and fuzzy" feeling people are supposed to get when they walk around THE college/university for them. I had been on countless college visits at that point, and I had no clue what anyone was talking about. It was not until I finally visited Augustana that I knew exactly what they meant. When I walked around campus, I finally understood because simply being here made me happy. From that visit on, my decision was made.
Are you where you thought you'd be when you first came to campus?
Nope…if you were to put yourself in my shoes, imagine the best possible experience and amplify it by 10, then add a dash of surprise, a boatload of unforgettable experiences and a sprinkle of obstacles in order to become the best version of yourself. That is how far I have come since I came to campus. I am beyond grateful that Augie pushed me to who I am today—a confident team-player who loves public speaking, training and development roles, and walking-taco Wednesdays.
Who helped you get to where you are now?
Like many of my classmates, I have been shaped by Augustana in ways that I could never have even dreamed of! I am so proud of the person I have been allowed to become thanks to the support of my family, friends, faculty and more. Thank you!
Peak experience?
There are so many peak experiences that I cannot choose even if I tried. Here is a short list: traveling to Appalachia with Campus Ministries; working in the admissions office in the calling program for four years; giving the welcome address/speech at the two largest visit days to all of the students and their families; speaking at the ADs competition as one of the four student presenters; taking Comm 403: Public Relations; and I am sure there are more, but I cannot think of them right now….
What surprised you?
Over these four years, I have learned to not be so independent. I realized how I am capable of being a leader, but I am meant to be a team-player. In high school, I would work independently if I had the opportunity to do so. Now I fully understand the value of a team.
I have been given awesome roles on leadership teams, presentation groups, executive boards, etc. I love working with others on all sorts of projects from a class assignment to presenting a major advertising pitch. I am always looking to learn from others, and I revel in opportunities for myself to be vulnerable, make mistakes and become that much stronger. It is never easy to do this, but with amazing people by my side, I have learned a lot.
How did you use Augie Choice?
I used my Augie Choice to study abroad in Rome, Italy. I traveled with my religion class for two weeks over the summer seeing all of the beautiful history we had learned about during spring term. I still have fond memories from that trip. My favorite moment was when I walked into St. Peter's basilica for the first time. I could not contain myself, and I just started crying. I am still not sure what came over me that day, but walking into such a vastly important place to the church was phenomenal, and I felt as though everything I was ever told was true.
What will you miss the most?
The people. The Augie community is a family to me, just as it has been to many before me and as it will be to many after me. I will miss seeing people I have lived alongside for so many years every day. But I look forward to seeing them succeed in everything that they are doing and changing the world for the better by bringing all that an Augie graduate has to offer.
Advice for the Class of 2023?
Love this college and every experience you get. Take nothing for granted. There is so much credit owed to the people and the opportunities that await you here, but make sure to love who you are, too. As Theodore Roosevelt said, "Comparison is the thief of joy." Never forget how wonderful you are. There is a power and a strength inside of you that is unique and fantastic. Own it, show it to the world and make your own way.
"The first thing that comes to mind when I think of Emily is 'kind.' She is summa cum laude in showing kindness. Emily is a person of deep faith, and for her, faith is to be expressed, not hoarded as a private possession. Check out her smile...it says it all."