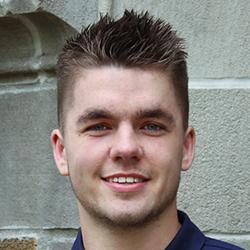 More Than I Imagined
Seniors reflect on accomplishments and look ahead
Nolan Ebel
Graduation year: 2019
Hometown: Denver, Colo.
Majors: Graphic design, communication studies
Activities: Varsity basketball (two-time NCAA Division III All-American), Fellowship of Christian Athletes, graphic design tutor, Office of Student Life, SloughFest
Internship: Fear Not Agency in Denver, Colo.
Post-grad plans: I just signed with an agent out of Chicago to play professional basketball next year.
Why Augustana?
I chose Augustana because it allowed me to be more than just an athlete. It gave me all the tools I needed to excel in athletics, in the classroom, as well as my interactions with other students. For me, I wanted to go to a great academic school because playing professionally is never guaranteed. And Augustana not only accomplished that, but also exceeded all my expectations. 
Are you where you thought you'd be when you first came to campus?
Not even close. I have grown more in four years than I have ever grown in my life. Augustana taught me what it looks like to be challenged, but succeed, and showed me how to lose, and come back. And lastly, Augustana showed me what it feels like to be supported, while being pushed and held accountable. I could talk for hours about how Augustana has helped me grow into the man I am today.
Who helped you get to where you are now?
Wow, this is a loaded question. The coaching staff on the basketball team were very important in my growth. The faculty also played a big part in my growth. I have countless stories of professors going out of their way to help me when it was of no benefit to them. You just don't hear that at other schools. Lastly, the community around Augustana. The media, the basketball fans and the Rock Island community really helped me grow with all their amazing support of our school and of my team.
Peak experience?
I have so many amazing memories here, from playing on national TV in the national basketball championship, to playing multiple Division I teams, to traveling the world with the basketball team. But the memories at Augustana that mean the most to me are not the ones where all the lights are on and the crowd is screaming.
The memories that mean the most are the memories with the people here. The relationships I made and the times I got to know people better are what I cherish the most. Like shooting hoops with my professor's son one day or tutoring students in design or my everyday interactions with the great people in the CSL and the Brew. It's the little moments like those that have meant the most to me, and what I will remember forever.
What surprised you?
Something that surprised me is what I was able to accomplish here in four years. When I came, I was told to set lofty goals, and through hard work and dedication, you can accomplish those goals here. So coming in, I set high goals for myself in the classroom, on the basketball court and socially as well.
With the help from a ton of people and faith in God, I was able to accomplish things that I never thought I could accomplish four years ago. So, moving forward in life, I understand that by setting my goals and aspirations sky high, and working really hard, I can accomplish anything.
How did you use Augie Choice?
I used my Augie Choice to travel with the basketball team after my first year to Spain and Italy. It was the best 10 days of my life, without a doubt.
What will you miss the most?
I will miss the people here. It's hard to really understand until you get here and live here. The people at Augustana are incredible. They all want what's best for you and will go out of their way to make you feel that. That includes the coaches, students, faculty and staff. It will be tough not to be surrounded by so many incredible people on a daily basis.
Advice for the Class of 2023?
Get involved. Augustana has so much to offer you as a student, athlete, employee, volunteer and so much more. It took me about a year before I got involved with the school outside of the sport I play and going to class every day. That was honestly the best thing I ever did. It is easy to just stay with what you are good at and hang around the people who are just like you and have similar interests. But if you do that, you are missing out on the other 90% of the Augustana community who are incredible in their own ways.
"Nolan is known around campus (and nationally) as a talented basketball player and strong student, but what makes him really stand out is his heart. He stays true to his values and beliefs. Beyond being a stellar yet humble athlete, Nolan is an outstanding mentor and takes his status as a role model seriously. He shows kindness to even the youngest of fans to make them feel special. Nolan's talent, dedication and intelligence will take him far. His compassion and character will take him beyond that."