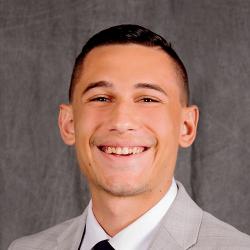 More Than I Imagined
Seniors reflect on accomplishments and look ahead
Danny Artman
Graduation year: 2020
High school: Schaumburg High School
Hometown: Hanover Park, Ill.
Majors: Accounting, business administration-finance
Activities: Varsity soccer, Phi Omega Phi fraternity, OSL Leadership Academy, Student Athlete Advisory Committee, Fellowship of Christian Athletes
Internships: US Foods accounting and finance intern
Post-grad plans: Deal advisory and strategy associate at KPMG in Chicago
Why Augustana?  
I chose Augustana because of the people. When I came to visit, everyone made me feel welcomed and valued, and that really made me feel like this was home for me. It was also a dream of mine to play college soccer, and Augustana gave me the opportunity to play soccer while getting a top-tier education that would prepare me for life after college.
Are you where you thought you'd be when you first came to campus?    
Yes and no. I always wanted to be involved and a leader, but I did not expect to be as involved as I was. Being able to have two majors, play a varsity sport, be in a fraternity, have a job on campus and be part of other student groups was something I never expected. Luckily, at Augustana, students are encouraged to be as involved as possible while still keeping academics at the forefront.
Who helped you get to where you are now?  
There are many people who have had a profound effect on me during my time at Augustana. First would be my family for always supporting me in everything that I do.
But on campus, there are three who really shaped my experience: John Delaney, Ken Brill and Jay Clark. Professor Delaney was my advisor and accounting professor. He helped me find internships and jobs but beyond that, he always pushed me in the classroom and made sure that I was being the best student I could be.
Ken Brill in the Office of Student Life helped me gain valuable leadership skills and always put me in positions to use those skills to better my peers. Lastly, Jay Clark in sports medicine was someone who helped me in the best of times and during the tough times. He was always there to talk and provide me with a laugh when I needed it.
Peak experience?  
It is hard to pick just one, but my peak experience came during J-term when I got to study abroad in Japan. I never really thought I would be able to study abroad because of the accounting major and varsity soccer. However, with J-term, I was able to use the time to go to Japan, learn a lot and experience a new culture.
What surprised you?  
I was surprised at the relationships I formed with professors. Being able to form a personal relationship with my professors really helped me to effectively communicate with them when I had to miss class for games, when I needed help in the class or when I just needed advice.
How did you use your Augie Choice?  
I used my Augie Choice to travel with the soccer team to Spain and Italy the summer going into my sophomore year. We played three games overseas, and I got to visit the No. 1 place on my bucket list, Rome.
What will you miss the most?  
I will miss the people. The friendships formed at Augustana will last for life, but it will be different as we all spread out across the country. These friendships made my time at Augustana special, helped me grow and provided me with some awesome memories.
Advice for the Class of 2024?    
You control your Augie experience. If there is something that you want to do, do it. There is no limit on the things you can do here, and do not let anyone tell you otherwise. Challenge yourself, work hard, be involved, but do not forget to have fun!
"Danny has a bright future ahead of him because of the hard work he put into his studies, soccer and other extracurricular activities. He was a hot prospect with all the accounting firms that interviewed him and ultimately landed a terrific job with KPMG. We called upon Danny frequently to represent the accounting program at recruiting events because his accomplishments perfectly exemplify the great outcomes that are possible for student-athletes who take advantage of all that Augustana offers. Congratulations to Danny for a job well done—he'll be a star at KPMG!"