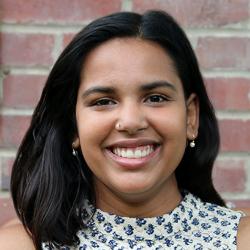 More Than I Imagined
Seniors reflect on accomplishments and look ahead
Krishna Marmé
Graduation year: 2020
High school: Davenport Central High School
Hometown: De Witt, Iowa
Majors: Political science, public health
Minor: Sociology
Activities: Omicron Delta Kappa leadership honor society, Mortar Board, Phi Rho sorority, Title IX Student Advisory Committee, MVP peer educator, Phi Beta Kappa
Internships: Congresswoman Cheri Bustos; Rock Island County Health Department
Post-grad plans: Pursue an MPH in Policy at the University of Iowa this fall
Why Augustana?    
Having grown up on this campus as both my parents are professors here, it felt right to highly consider Augustana for my undergraduate career. After visiting larger universities, I knew I wanted to attend a small college as I didn't like how small I felt. Augustana became my top choice as I felt that I could really thrive within this community.
Are you where you thought you'd be when you first came to campus? 
I came to Augustana knowing I wanted to major in political science, but I didn't know what my other interests were. I am very happy with my educational journey here because I was able to find another major and minor that complement my political science major. Along with this, I became way more involved than I thought I was going to be, and this led me to create more relationships across campus.
Who helped you get to where you are now?    
My advisors; Dr. Hann for sparking my interest in public health; Dr. Magalhães for always showing me the possibilities of my major; Dr. Croll for helping me synthesize my minor into my majors; and Dr. Heick for helping me build my Senior Inquiry and showing me the importance of my topic. As I write this, I realized that I have never had a term where I have not learned an enormous amount from my professors.
Also, Dr. Smith, Dr. Schultz and Emilee Goad for not only giving me multiple opportunities to become more involved on campus but also supporting and listening to my ideas.
And Bettinna Bolger, Christy Parker, Juliane Fricke, Michelle Heinrichs and Sherry Docherty for giving me the opportunity to work in different parts of campus and helping me develop a work ethic.
And my parents, for being my biggest supporters all my life.
Peak experience?   
Of the many great experiences I've had at Augustana, my peak experience was definitely my trip to Washington, D.C., for PLEN's Women in Health Policy Seminar. This seminar not only helped me better understand health policy, but also gave me the opportunity to meet with so many influential women making huge contributions to this field. This trip would not have been possible without CORE's Laura Kestner-Ricketts.
What surprised you?    
I was surprised at how easy it was to become involved at Augustana. I was surrounded by a very supportive community the second I started my first year, and this definitely helped me explore my interests more.
How did you use your Augie Choice?  
I used my Augie Choice to fund my internship with the Rock Island County Health Department.
What will you miss the most? 
I will miss living on a campus where my professors and peers truly care about me and advocate for my success.
Advice for the Class of 2024? 
 Augustana has many opportunities for students to become involved on and off campus. Take every opportunity that comes to you. Be an advocate for yourself.
"Krishna embodies the best of Augustana's spirit of student engagement and the liberal arts mindset. She is bright and inquisitive and has a demonstrated passion and commitment for serving others. While working with Krishna in the public health program, I have seen her bring the liberal arts philosophy to life in her academics, culminating in a successful multi-disciplinary Senior Inquiry. Krishna's time at Augustana has given me a glimpse of the bright future that awaits her!"