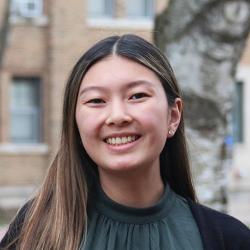 More Than I Imagined
Seniors reflect on accomplishments and look ahead
Alison Ng
Graduation year: 2021
High school: Schaumburg High School
Hometown: Schaumburg, Ill.
Majors: Business administration (management), public health
Activities: Mortar Board national honor society, Vikettes Dance Team, Business Club, Greek Council, Sloughfest Executive Board, Phi Beta Kappa academic honor society
Internship: Her2O™ International
Post-grad plans: I plan on working for a year or two before going to graduate school for health care administration.
Why Augustana?
I chose Augustana because of the tight-knit community feel. When I first visited campus the spring of my junior year of high school, I immediately felt welcome on campus and could see myself start my higher education experience at Augie. When I was looking at potential programs of study, I was overwhelmed, but many admissions counselors assured me that I would find the support I needed to find the right path, which is exactly what happened.
Are you where you thought you'd be when you first came to campus?
Not at all. I was a very shy person all throughout high school and was extremely nervous about starting over on a new campus. I wanted to be involved and a leader, but I never expected to be involved as I was. Studying two majors, having a job on campus and being in all my extracurriculars was never something I thought was possible. Students at Augustana are constantly encouraged to be involved while keeping academics in mind.
Who helped you get to where you are now?
There are so many people who helped me get to where I am now and who tremendously changed my time at Augustana. The first would be my family for providing constant support in everything that I did.
On campus though, there are two individuals who molded my Augustana experience: Dr. Lena Hann and Dr. Paul Croll. Dr. Hann was my public health advisor and professor. She pushed me both inside and outside the classroom, making sure I could be the best young professional I could be.
Dr. Croll was my first-year advisor, and I worked with him my junior and senior years in the sociology department. He pushed me outside my comfort zone and was always there to talk me through my experiences.
Peak experience?
My whole Augustana experience has been more than I imagined, so picking one is difficult. But I would say my peak experience came when I had the opportunity to attend the Lead365 Conference in Orlando, Fla., with the Office of Student Life. The OSL posted the conference application, and I had doubts about getting in. But thankfully, I was able to attend the conference, which was a great opportunity to network and learn leadership skills from many experienced individuals.
What surprised you?
What surprised me were the relationships I developed with my professors. Having such small class sizes really pushed me to participate and be the best student possible. The professors were always encouraging me to visit office hours or reach out to them with any questions or concerns, which I found useful throughout my time at Augustana.
How did you use your Augie Choice?
I used my Augie Choice to fund my public health Senior Inquiry internship at Her2O™ International during my senior year.
What will you miss the most?
The people! All the friendships and connections formed at Augustana have made my college experience extraordinary. Each friendship and connection helped me grow and create memories that will last a lifetime.
Advice for the Class of 2025?
Be true to yourself. Augie is unique because you can choose your own path. If there is something you want to do, go out and do it. The professors and people around you all want you to succeed, so challenge yourself, work hard, get involved and most of all, have fun!
"Alison demonstrates an unmatched commitment to the liberal arts both on campus and in the community. With her double majors in public health and business, she has helped a startup non-profit organization — Her2O International —work toward its mission of getting women equitably involved in water management around the globe. Alison's passion for learning and helping others will take her far after Augustana. We will miss her fearless leadership and big heart!"