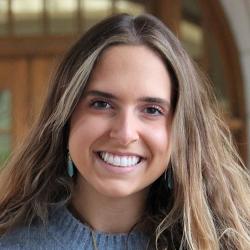 More Than I Imagined
Seniors reflect on accomplishments and look ahead
Annette Schneider
Graduation year: 2021
High school: Bettendorf High School
Hometown: Bettendorf, Iowa
Major: Communication sciences and disorders (CSD)
Activities: Office of Student Life and Leadership (OSL), Phi Rho sorority, Epsilon Sigma Alpha (service), Dance Marathon, Augustana Student Speech-Language and Hearing Association, Kaleidoscope (children's art program)
Internships: Sweet Pea's Therapy; Augustana Speech, Language, and Hearing Clinic
Post-grad plans: I will be attending Augustana College to get my master's in speech-language pathology.
Why Augustana?
Growing up in the Quad Cities, I wasn't sure if I would want to attend a school so close to home. However, on my Visit Day, something just clicked. I think it was the small campus feel and how my tour guide said hi to every person they saw on campus.
I knew in that moment that was what I wanted in a school, and I couldn't be happier with my choice. I was able to join many different clubs and hold leadership roles in these clubs, while focusing on my academics and participating in clinic for CSD.
Are you where you thought you'd be when you first came to campus?
I am 100% a better version of myself because of Augustana. When I first came, my two main goals were to make friends and do well academically. I did not envision being a leader in different clubs, obtaining an amazing internship, working many different on-campus jobs and gaining an incredible support system.
I am more outgoing, driven and a stronger leader because of Augustana. I am excited to see how my friends and I continue to grow because of our experiences at Augie.
Who helped you get to where you are now?
There are so many people who helped me get to where I am today. First, I would like to give credit to my family for always believing in me and pushing me to be my best. Their constant support made these four years easier.
Next, I need to give credit to the faculty in the CSD department for their unwavering, constant support. They truly want every student to succeed, and they are willing to take the time and effort to make that happen. I am very thankful that I was able to grow not only as a student, but as an individual.
Along with the CSD department, I owe a lot of my leadership skills to the OSL. I was hired as a first-year, and over the last four years, I have become more outgoing and a stronger leader in the OSL and also in the classroom.
Lastly, all of my wonderful friends. They have given me a support system, a reason to laugh, a shoulder to lean on and made Augie a second home. I would not be where I am today if it wasn't for my friends.
Peak experience?
My peak experience was studying abroad in Rome. I went into Augie knowing I wanted to study abroad and being able to fulfill that dream was incredible.
Walking by the Colosseum and Trevi Fountain every day for two weeks felt like a dream. I am very grateful Augie was able to provide me with such an amazing and unforgettable experience.
What surprised you?
Looking back, I did not expect to get to know my professors as well as I do now. I love knowing I can go into any CSD faculty member's office and ask for advice or help. I think this is what sets Augie apart — the faculty not only want to see you succeed, but they will do everything in their power to help you get there.
How did you use your Augie Choice?
I used my Augie Choice to study abroad in Rome over the summer going into my junior year. This was truly a once-in-a-lifetime experience that I was able to spend with some of my best friends. I loved learning about the history of Rome and being able to explore the city.
What will you miss the most?
I will miss the Augie community the most. I love being able to walk to class and see people I know in the Brew and Quad. These simple hellos going to class would make my day brighter and put me in a better mood. I am excited to carry on many of the lifelong relationships with friends and faculty I have made because of Augie.
Advice for the Class of 2025?
Class of 2025, I encourage you to get involved! Join any and all clubs, sports and organizations that sound interesting. Even if you don't continue with one or two of those clubs, I guarantee you will have made a friend in the process. Some of my best friends are from club meetings three years ago!
"The very first time I met Annette I knew she was a gifted leader. She served in key leadership roles in the Office of Student Life, including Welcome Week coordinator, A Day of Giving coordinator and Homecoming general co-chair. Annette is always on her game, balancing academics, family and community leadership with ease. Her positive impact on our community will be felt for years. Thank you Annette and congratulations for a job well done! I look forward to following your future successes."