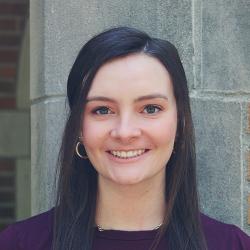 More Than I Imagined
Seniors reflect on accomplishments and look ahead
Annie Wheeler
Graduation year: 2021
High school: Sacred Heart-Griffin High School
Hometown: Springfield, Ill.
Majors: Graphic design, communication studies
Activities: Student Government Association, The Observer, Advertising Developers (ADs), Chi Alpha Pi sorority, club soccer
Internships: Legal intern at City of Springfield Mayor's Office; graphic design intern at Levi, Ray & Shoup in Springfield, Ill.
Post-grad plans: Working as a graphic designer at Spark DSG
Why Augustana?
Before visiting Augustana, I had no idea what the 'liberal arts' even were. No other school I was considering offered so many different opportunities to explore other fields. Augie was my chance to pursue every subject I was interested in and learn more about myself before committing to a career direction.
Without that freedom, I might have never discovered my passion for graphic design. Augustana taught me more than I ever could have imagined, and for that I will be forever grateful.
Are you where you thought you'd be when you first came to campus?
When I first came to campus, I thought I was going to be a lawyer. After a year of struggling through my political science classes and taking refuge in the art studio, I knew something had to change. Because of the flexible liberal arts curriculum, I was able to switch majors to graphic design and communications.
I fell in love with design, graduated a semester early, and landed my dream job at a design agency. I never imagined this would be my life, but I'm so grateful Augie brought me here.
Who helped you get to where you are now?
I wouldn't be where I am today without Professor Vickie Phipps and Dr. Margaret Kunde.
I met Vickie right after I dropped my political science major to pursue graphic design. Needless to say, I was terrified about changing career paths, but Vickie helped me realize my true passion for design. I had the privilege of studying abroad with Vickie my sophomore year, and I even got to help teach a J-term class with her. She still continues to support me, even after I graduated and started my career.
Dr. Kunde has also been supporting me since my sophomore year. After taking one class with her and expressing my interest in a communication studies major, she immediately offered to be my advisor. She helped me fit both of my majors and my term abroad into a schedule that still allowed me to graduate early. I honestly don't think I could have done it all without her.
Just like Vickie, Dr. Kunde still checks in on me, and I always look forward to catching up with her!
Peak experience?
My peak experience was studying abroad in Amsterdam. Applying to spend a term in the Netherlands was an impulsive decision, but it was by far the best choice I made during my time at Augustana.
While I was abroad, I fully immersed myself in art history, design and culture. I visited five different countries, explored countless museums, and made some unforgettable memories. The experience was everything I could have hoped for and more.
What surprised you?
I was surprised by how many unexpected opportunities I was given at Augie. I hadn't planned on joining a sorority, and I never expected to study abroad. I had no idea that I'd become the political cartoonist for the school newspaper, or that I'd serve in the student senate.
Even though I didn't plan for any of these experiences, they made my time at Augie truly special.
How did you use your Augie Choice?
I used my Augie Choice studying abroad in Amsterdam. Without the extra financial support, I would have missed out on a life-changing experience.
What will you miss the most?
I can't choose just one thing.... I'll miss the Slough path in the fall and Sunday afternoons in the Brew. I'll miss all of the people I've gotten to know over the last four years and the professors who never fail to check up on me. I'll miss Homecoming Week, Sloughfest and Mr. Augustana. I'll miss this beautiful campus and the wonderful community I got to be a part of.
Advice for the Class of 2025?
1) Study abroad! 2) Join an intramural or club sport (even if you suck). 3) Enjoy the CSL while you can. 4) Don't sleep on BINGO night. 5) Say yes to every opportunity professors send your way. 6) Take advantage of CORE. 7) Get off campus and explore the QC. 8) Enjoy every minute of your time here. :)
"Annie is a person who maximized her opportunities and outcomes at Augustana to provide her with an optimal career path for her personal interests in graphic design. She successfully developed her own design rationales, worked at full capacity, and now has a job that she describes as an 'absolutely perfect fit.' I couldn't be happier for her, nor more optimistic for her prospects in the future of design."