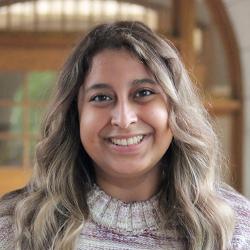 More Than I Imagined
Seniors reflect on accomplishments and look ahead
Camila Davila
Graduation year: 2021
High school: Riverside Brookfield High School
Hometown: North Riverside, Ill.
Majors: Biology, neuroscience
Activities: Alpha Phi Omega service fraternity, Beta Beta Beta (biology), Psi Chi (psychology), Sigma Xi (research), Mortar Board Honor Society, Omicron Delta Kappa (leadership), Phi Beta Kappa academic honor society
Internships: Texas Medical Center internship at Baylor College of Medicine (virtual) and Cardiovascular Medicine internship
Post-grad plans: I accepted a position at the University of Colorado Anschutz Medical Campus as a professional research assistant in the Department of Neurology.
Why Augustana?
Augustana looked amazing on paper. I was impressed by its biology department, study-away programs and the different resources available. Once I got on campus, I fell in love with the community, its students and faculty. Everyone seemed so excited to be at Augustana, and it really drew me in. I'm glad that younger me knew what she was doing because coming to Augustana was the best decision I could have made.
Are you where you thought you'd be when you first came to campus?
Honestly, yes. I knew that Augustana would prepare me for this moment, and I am so excited to take on the next stage of my life. It is such an incredible feeling knowing that Augustana gave me everything I needed to be successful wherever I go.
Who helped you get to where you are now?    
I am so grateful that Augustana gave me an incredible support system in friends, peers, professors and staff.
Outside of Augustana, I found support in my parents who always pushed me to be the best student and person I could be. My graduation is truly our success.
In addition, my friends who always kept me grounded and my incredible friends and colleagues in Res Life, who became family. My boyfriend, Diangelo, always encouraged me to chase my wildest dreams and reminded me there was no limit to what I was capable of.
My wonderful advisors, Dr. Shara Stough and Brad Kennedy, were always willing to listen and offer advice. Dr. Jose Boquin always gave me a safe space, never let me give up on myself and always challenged me.
Dr. Daniel Corts and Dr. Chad Yuen were professors I met early on at Augustana, and they become familiar faces that I knew I could count on.
Peak experience?
My peak experience was getting accepted into the Texas Medical Center program my junior year! Since my first year, I knew that this was an internship I wanted to be a part of, but it was extremely competitive. So, knowing that I was accepted and that my hard work was truly paying off was so reassuring for me. Although it was virtual, I loved working and learning from my mentors, Dr. Tiphanie Vogel and Dr. Maria Pereira, who are incredible doctors, scientists and humans in general.
What surprised you?
The endless opportunities that are available to students. With Augustana being a small liberal arts school, I didn't expect it to have so many opportunities, but it truly has so much to offer through its study-away programs, internships (on and off campus), clubs and so much more. I feel like it has something to offer everybody. You just have to be willing to look for it!
How did you use your Augie Choice?
I used my Augie Choice to travel to Costa Rica on the Health Service Learning Trip. It was such an incredible experience, and I am so happy that I was able to use my Augie Choice to fund this trip.
What will you miss the most?
I'll miss the people I met at Augustana, including peers, classmates, professors and staff. Augustana has such an incredible community, and I'll miss being a part of it. It truly became my home away from home. I am grateful that Augustana became so special to me that saying good-bye is so hard.
Advice for the Class of 2025?
Be resilient. You will fall, but when you do, always pick yourself back up. Don't forget to be confident in yourself, learn from your mistakes and come back stronger than before.
"My favorite thing about Camila is her curiosity and ability to integrate different aspects of her education. She has always been interested in neurodegenerative disorders and medicine, so it was so much fun to supervise Camila's research on the relationship between Alzheimer's disease and traumatic brain injury during her senior year. Her enthusiasm for the project helped provide motivation and a sense of direction to the entire research team. I appreciated this small glimpse of the great things her future holds!"