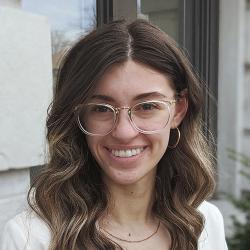 More Than I Imagined
Seniors reflect on accomplishments and look ahead
Celina Rippel
Graduation year: 2021
High school: Roanoke-Benson High School
Hometown: Roanoke, Ill.
Majors: Business administration (management), graphic design
Activities: Augustana's Entrepreneurial Center (EDGE), Advertising Developers, club soccer, community advisor (CA) 
Internships: EDGE Center (three summers and during school); HNI Corporation Digital Communications and Marketing Co-op
Post-grad plans: I am currently working part-time for HNI in Muscatine, Iowa, and my plan is to either continue full-time in my current position or full-time in another position at HNI.
Why Augustana?
Doug Tschopp...and the financial aid package. On my first visit here, I met Doug, who runs the EDGE Center on campus. I knew there was something special about his program when we took an extra 30 minutes out of my campus tour to talk with him. I knew the opportunities I would gain in the EDGE Center would prepare me for graduation, and I have to admit, high-school me was right.
Are you where you thought you'd be when you first came to campus?
Academically, things have changed slightly. I added a graphic design major and switched from marketing to management. But, what changed the most was me. I never would have imagined having the confidence and respect for myself that I do now. Freshman-year me was overwhelmed and insecure. Senior-year me is ready to take on the world…but I think I'll start with a career first.
Who helped you get to where you are now?
So many people, but I'll start with Doug because he's been a part of my Augustana experience since my freshman year and has been there through it all. I literally call Doug my EDGE Dad. Not only has he helped me academically, but he has also helped me with life decisions and has guided me through some really tough times. My experience wouldn't have been the same without him, and I guarantee I will stay in touch with Doug long past my time at Augie.
Now that I'm all teary-eyed, I want to shoutout all my professors who have helped me along the way, notably Mindy Mahon, Angela Boelens, Vickie Phipps and David Thornblad. I'm not picking favorites, but I'm totally picking favorites. There are definitely more professors who have contributed to my success, but these four have challenged me and helped me grow the most, and I couldn't be more grateful for everything they've done for me.
Peak experience?
Freshman year...helping a poor sophomore boy try to find his wallet and then spending the next four years falling in love with him.
What surprised you?
I knew coming to a smaller school I'd be able to make connections with my professors, but I didn't realize how many connections I would make. I've gotten to know so many people at Augie and built relationships with them. From bonding over Star Wars with an MJMC professor for an elective class to talking with Brenda from Facilities about her adorable grandchildren.
How did you use your Augie Choice?
I initially meant to use Augie Choice during a product marketing internship, but due to COVID, it was canceled. Luckily, I was able to use it that same year, interning a third summer in the EDGE Center.
What will you miss the most?
Doug and Andy (the other guy who runs EDGE, appropriately named my EDGE Brother), my professors, my roommates (who are sadly all moving away from me), and everyone else who have made this experience a memorable one. I would also say I'll miss the Quad Cities, but I won't have to because I'm staying here!
Advice for the Class of 2025?
Find your thing and go all in. I learned the hard way that being too involved is real. Doing a couple things really well is SO much more valuable than doing a bunch of things half-heartedly. Find what you enjoy and give it your all, even if that means you have to quit something else.
"When a student picks Augustana for the EDGE Center, I know it is going to be an awesome four years. I knew right away that Celina would become a leader in EDGE. Her immersion into strategic communication planning and project management for four years puts her way ahead of other college grads. Combine that with her work ethic and personality, and you have a leader that everyone would want to work with."