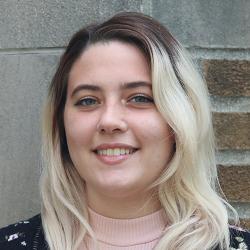 More Than I Imagined
Seniors reflect on accomplishments and look ahead
Courtney Veitch
Graduation year: 2021
High school: Lake Zurich High School
Hometown: Hawthorn Woods, Ill.
Majors: International business, Asian studies
Minors: Graphic design, Japanese
Activities: Varsity women's Lacrosse, Jenny Lind Vocal Ensemble, Chi Omega Gamma sorority, Asian Student Organization, Student Athlete Advisory Committee, Office of International Student Scholar Services
Internship: Weber-Stephen Japan
Post-grad plans: I plan to work as an international business analyst, where I can pursue the connection of cultures and travel.
Why Augustana?
Augustana called me in high school because of lacrosse. When I came for an overnight, I loved the campus, and I knew I wanted a smaller setting where I could get to know my professors.
Are you where you thought you'd be when you first came to campus?
No, but I think that is a good thing. People grow and change and so do their paths in life. I first came here as a computer science major, and while I still like it and do it as a hobby, the clubs, people and classes I have taken at Augie led me to my passion for working with other cultures.
Who helped you get to where you are now?
My teammates, professors and parents all helped me get where I am now. I learned so much being on a team sport and learning to be a leader both on and off the field.
My professors created an environment that helped me to grow but still remain independent, ready and prepared for the real world.
My parents have always had my back and let me pursue my goals in the way I needed to.
Everyone had some sort of impact on my development these last four years, and I am grateful for all of the experiences.
Peak experience?
My peak experience would have to be my internship in Japan. This fully solidified my passion for working in East Asian cultures and wanting to bridge the world.
What surprised you?
I was surprised by how much I was able to do within these four years. Two majors and two minors was a lot of work, but I was able to do it with the help of my advisors and professors, who saw how much I wanted it. On top of my extracurriculars, I feel I had a well-balanced experience.
How did you use your Augie Choice?
I used my Augie Choice for my internship in Japan. It allowed me to travel there so I could focus on the work I was doing.
What will you miss the most?
I will miss the professors who pushed me and helped me to grow. Ultimately, they taught me to ask questions and think outside the box. I had a good relationship with them, and seeing them all year long will be dearly missed.
Advice for the Class of 2025?
Try everything. You can always choose to not do something later, but this is the time where you have the opportunity to expand your horizons with new experiences. I don't think I would be where I am now without having done the things I tried.
"Courtney is a great role model for an international business major at a liberal arts school. Given this, the business department often invited her to be a student representative at prospective student recruiting events. Given her campus activities and her classroom engagement, we knew she would be an enthusiastic supporter of the school and our business program. At Augustana, among other things, Courtney is a singer, an artist, a gamer and a lacrosse player. Her internship in Tokyo combined her interests in business, Asian studies and Japanese. With her openness to varied experiences, I look forward to learning more about her post-graduation plans."