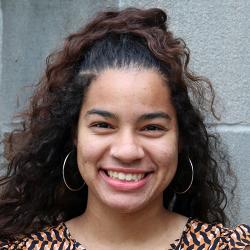 More Than I Imagined
Seniors reflect on accomplishments and look ahead
Elizabeth Cook
Graduation year: 2021
High school: Minooka Community High School
Hometown: Joliet, Ill.
Majors: Biology, sociology
Activities: Varsity lacrosse (All-CCIW, Jack Schwartz Award), Asian Student Organization, Black Student Union, Chi Alpha Pi sorority, Student United Way, Residence Hall Association, Students for Reproductive Freedom, Mortar Board Honor Society, Sports Medicine
Internship: Next Generation Leaders Fellowship with the Every Voice Coalition
Post-grad plans: I will be attending podiatry school at Dr. William M. Scholl College of Podiatric Medicine at Rosalind Franklin University.
Why Augustana?
I started looking at Augustana because I wanted to go to a smaller school close to home. When I came to Augie on my visit, I fell in love with the tight-knit community and all of the opportunities that were possible here. I could get a quality liberal arts education while continuing to play the sport that I love.
Are you where you thought you'd be when you first came to campus?
When I first got to Augustana, I was fairly timid. The friends that I made freshman year at Multicultural Student Orientation really pushed me to grow into my true authentic self.
I now know how powerful my voice is especially when advocating for myself and others. Augustana provided me a place to not only learn more about what was important to me but also teach those things to others.
Who helped you get to where you are now?
I am blessed to have an incredible support system. I could not have gotten through college without my family, especially my mom. My mom is one of my biggest supporters and inspirations; I watched her take care of my four siblings and me while pursuing her education, and I am so happy to make her proud.
I am also so thankful for the support of my friends and teammates. I made some of my closest friends here at Augustana, and I could not have gotten through college without them.
I am incredibly thankful for my professors as well for pushing me to take up space in academia. A big thank you to my advisors, Dr. Paul Croll and Brad Kennedy, for believing in me when I had a hard time believing in myself. I would have never made it into a graduate program without their guidance and support.
Peak experience?
Not to sound cliché but my entire college experience. When I think about the memories that I hold closest and the experiences that taught me the most about myself, they were the little things: late nights in the Erickson basement, bus rides home from games, being way too loud on the quiet floor of the library and watching the sunset on TLF.
My time at Augustana taught me to find solace in the little things and that taking a break is good for the mind and body.
What surprised you?
My ability to advocate for myself and push through life's challenges. Looking back on the girl I was freshman year, I am so proud of how far I have come. My time at Augustana included some of the hardest times in my life, and I am amazed by my ability to push forward. College taught me to embrace my hardships and grow from them.
How did you use your Augie Choice?
I used my Augie Choice to continue to do my internship with the Every Voice Coalition. Serving as the Illinois State Director of a national non-profit organization is a leadership experience that has helped me grow so much.
What will you miss the most?
I think I'll miss the Augie bubble the most. For the past four years, I have had my closest friends down the hall or a short walk away. There is something truly magical about walking the Slough with your best friends, and that is an experience I'll miss.
I am also going to miss my team so much. Augie Lax is like a second family to me, and I am so grateful to have teammates who turned into my best friends. I am so sad to leave them, but I cannot wait to see what the world has in store for them.
Advice for the Class of 2025?
Take advantage of every opportunity you have when you get here. Augustana has so many things to offer, so many experiences that you will never have again once you leave. That being said, go to every event, on every trip and to every class. You never know what life is trying to teach you.
"Lizzy has been an instrumental part of creating the positive team culture we have. She's a leader on the team and has always performed well in the classroom. Not only has she been an amazing player for us, but she sets an example for the group by being a great teammate and having a great work ethic."