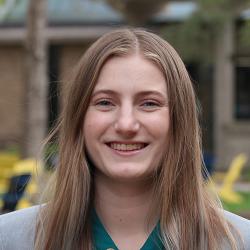 More Than I Imagined
Seniors reflect on accomplishments and look ahead
Emily Edwall
Graduation year: 2021
High school: St. Bede Academy
Hometown: Utica, Ill.
Majors: Accounting, business administration (finance)
Minor: Graphic design
Activities: Student Investment Fund, Advertising Developers (ADs), International Family Therapy Association (IFTA) Congress, Mortar Board Honor Society
Internships: Marketing intern (Russell Construction & Development), tax intern (Honkamp Krueger & Co., P.C.), audit intern (Johnson Lambert LLP), tax intern-accounting department (Honkamp Krueger & Co., P.C.)
Post-grad plans: Work full-time as an audit associate at Johnson Lambert LLP in the company's Illinois office and study for the CPA exam.
Why Augustana?
Initially, as a first-generation college student and part of a large family, I sought a four-year college experience while also staying relatively close to home.
I came across Augustana by chance, and the financial aid award made attending possible. I loved the campus when I visited; I enjoyed the ability to continue my education with small class sizes; and I was keen on the opportunity for multi-faceted involvements while pursuing my studies.
Looking back, I'm so glad I chose Augie.
Are you where you thought you'd be when you first came to campus?
Absolutely not! I had an inclination to pursue a business degree based on subject interest and with the hope that I would have financial stability following college. I had no inkling of what a possible career path might look like for me, how I would get there or where I would end up.
With the help of faculty and advisors, I pinpointed my areas of study. With Augustana's support system, the college's network of opportunities and the Entrepreneurial (EDGE) Center, I discovered my niche.
Who helped you get to where you are now?
The Augustana community, my various club members, family and friends have helped me evolve into who I am today. Here are a few instrumental faculty I would like to take a moment to thank:
Doug Tschopp prompted my involvement in ADs and the IFTA Congress. His encouragement helped me land a marketing internship that familiarized me with the Quad Cities and developed competencies that I applied to later endeavors.
Dr. Delaney and the accounting department create a myriad of opportunities and prepare students for the career ahead. Specifically, Dr. Delaney facilitated my interest in the accounting degree, encouraged me to attend the Chicago Accounting Interview Day when I was hesitant, and helped me with the job decision-making and acceptance process.
Dr. Zhou, along with the business department faculty, helped prepare my team to undertake the CFA Research Challenge. Dr. Zhou, our academic advisor for the competition, was very supportive and provided meaningful feedback.
Peak experience?
How do I choose just one? I thoroughly enjoyed the time and commitment that went into the CFA Research Challenge, NSAC Competitions and IFTA Congresses. These experiences offered exposure outside the academic realm and yielded deliverables.
Another peak experience was seeing the process through from résumés, professional communication and mock interviews to the acceptance emails or phone calls from employers. This was attributable to the faculty and curriculum set forth by the departments.
What surprised you?
Despite being so timid and shy, I was able to get outside my shell and discover who I am for the first time in my life. I was surprised by how many opportunities there are to be involved in the departments, campus activities and the greater community.
How did you use your Augie Choice?
I used my Augie Choice for an internship during the summer of 2020. It was an impactful experience, and little did I know then, but this internship led to the full-time offer with the firm where I will be working post-graduation.
What will you miss the most?
The people. I will miss living across the hall or down the street from my friends. I will miss the idea exchanges and banters at club meetings. I will miss seeing everyone walking through the Quad. Finally, I will miss the eagerness I had going to class, learning new topics, and talking with peers and professors.
Advice for the Class of 2025?
Be willing to go the extra mile and go all in — even with the little things. You never know what opportunities you or others around you might discover. Be sure to advantage of the support system and community environment that Augustana offers while you are here. They care about your future, too.
"Emily has demonstrated exactly the success of professional education in a liberal arts college like Augustana. Emily, with four other Augustana students, won second place in the CFA Research Challenge 2018-19 season hosted by the CFA Society Chicago. One of the winning factors was the design of the team's research report, which was created by Emily. Emily has rich extra-curricula activities at Augustana and has been very committed and responsible for all of them. I trust that she will be an excellent employee in any organization."