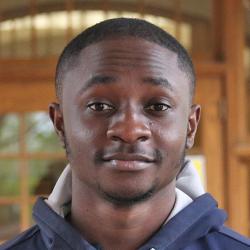 More Than I Imagined
Seniors reflect on accomplishments and look ahead
Emmanuel Yeboah
Graduation year: 2021
High school: Adisadel College
Hometown: Accra, Ghana
Majors: Mathematics, accounting
Minor: Data analytics
Activities: African Students Association, Student Investment Fund, Resident Advisor (RA)
Internships: Data analyst intern with Capital Policy Analytics; tax intern with Carpentier, Mitchell, Goddard & Company
Post-grad plans: Work full-time as an audit associate for Deloitte
Why Augustana?
My first interaction with Augie was through a YouTube video. I was drawn to its beautiful campus, its friendly student body and its great faculty/advisors. Looking back, Augie has offered way more than what I initially expected. I am glad I made this choice because it has truly been the right place for me.
Are you where you thought you'd be when you first came to campus?
Absolutely not. I came to Augustana with fears that I may not be able to handle course loads or even keep up with the pace of my classes or fit in, let alone take up challenges and leadership positions on and off campus.
But the support I have received while on campus has been tremendous. Augustana has been integral in my personal development. I am most grateful for the meaningful relationships I have been able to establish during my four-year stay on this campus.
Who helped you get to where you are now?
I owe most of my achievements to so many people: my family, friends, Pastor Priggie, Diane McCann, Dean Brooks, Professor Farah, Dr. Clauss, Dr. Rodman, Dr. Sward, Dr. Van Howe, Dr. Delaney, Mr. Bobbit and professors in the RWC. I cannot thank them enough because it's their support, advice and words of encouragement that have brought me to where I am today.
Pastor Priggie and Diane McCann – Were it not for your advice and support, I would not have had the strength to overcome most of the obstacles I faced during my time here at Augie. Thank you.
Professor Farah, Dr. Clauss, Dr. Sward and Dr. Delaney – Thank you for your advice and for inspiring me to always be at my best. Your inspiration and support always meant a lot to me.
Peak experience?
My peak experience was at the start of this semester. The simple realization that I will be a part of the graduating class of 2021 is indeed a blessing to me. I am more than humbled by the support and love I have received over the years, especially during times of financial difficulty. In many instances, the future of my education was up in the air but God's gracious work through family, friends and faculty/staff has brought me this far. And I'm very thankful for that.
What surprised you?
I was surprised by how much I have learned and grown as an individual. Coming to the United States, I lacked the confidence to lead and barely stepped out of my comfort zone. But Augustana changed that. Through the opportunities at Augie, I have honed the needed technical, social and leadership skills. Augustana truly empowers its students.
How did you use your Augie Choice?
I used my Augie Choice in research with Dr. Sward during the semester.
What will you miss the most?
I will mostly miss the people. My friends, professors and so many others have made my time here at Augie really special. They have played such a large role in my growth and experience. And I will always cherish the times I spent with them.
Advice for the Class of 2025?
Don't be afraid to try new things. Be ready to see things from other people's perspectives. Also, remember that healthy and meaningful relationships will make your time at Augustana a memorable one.
"Emmanuel is a thoughtful, curious, generous individual. He does not compete in his classes, rather he helps his classmates. He excels because he is persistent and because he sincerely wants to explore and understand new and complex ideas."