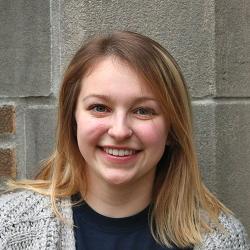 More Than I Imagined
Seniors reflect on accomplishments and look ahead
Freja Hager
Graduation year: 2021
High school: Geneseo High School
Hometown: Geneseo, Ill.
Majors: Accounting, business administration (management and finance)
Minor: Data analytics
Activities: Chi Alpha Pi sorority, Dance Company
Internship: Internal audit internship with HNI Corporation
Post-grad plans: Work full time at RSM in Davenport, Iowa, as an audit associate
Why Augustana?    
I was attracted to Augustana because when I had my first visit here, I instantly felt at home. The beautiful campus and welcoming community here is so special, and every other college I visited did not even compare to our culture.
Now, after being here for four years, I know I made the right choice. From Augustana's understanding and caring response during lockdown last year, to all of the support and friendships I have had, I wouldn't change a thing.
Are you where you thought you'd be when you first came to campus?
I am definitely where I hoped I would be freshman year, but I honestly never thought I could get here. Augie really showed me that you can do so much more than you think. I used to be so shy, but now I have so many people I call my friends here on campus.
I have a full-time job offer during a global pandemic, which is just so crazy to me. In other words, wherever you want to see yourself going, I think that your support system at Augie can help you achieve your vision and more!
Who helped you get to where you are now?    
Three groups of people helped me get me to where I am now. First, the Accounting Department, specifically Dr. Delaney, is extremely supportive and creates so many opportunities for accounting students. I never thought I would get so much practice with interviews, résumés and applications, but when junior year came, I felt so prepared.
Further, after my internship was rescinded last year due to the pandemic, it was a really hard time for me. Luckily, Dr. Delaney immediately supported me and helped me achieve the full-time job I have with RSM now.
Second, my family. I am extremely lucky to have a caring and involved family, and they are the reason I work so hard and am dedicated to my career.
Finally, my friends on campus are a huge support system. From my Dance Company family, to my sorority sisters, to my classmates, I always have someone on campus to turn to when I need a helping hand.
Peak experience?
I had two peak experiences because I can't decide! First was my internship at HNI Corporation. Working in the internal audit department solidified my love for accounting and the career path I wanted to go down, and allowed me to apply my classwork to the real world.
Second was the opportunity to do an audit seminar where my partner, Lupita Toscano, and I got to work directly with Dr. Coe to create a specialized risk framework for Augustana and present to the members of the Audit and Risk Committee.
What surprised you?    
I didn't know that accounting students would have so many amazing opportunities. We have the Chicago and local career fairs, where I had lots of practice interviewing with various companies. We also had opportunities through CORE for résumé building and mock interview practice. Finally, I did not expect the professors to be so supportive and actually care about our future.
What will you miss the most?    
I will probably miss the people the most. I will miss talking with my professors about different opportunities I have coming up. I will miss Homecoming where the Greek groups participate in SING, Yell, and the Talent Show. I will miss dancing with some of my favorite people on campus and being able to be myself. In other words, I will miss my entire support system that I built here at Augie, but I know they will just be a text or call away!
Advice for the Class of 2025?
Never turn down an opportunity. You can do so much more than you think, and Augustana gives students so many different chances to succeed. So apply to that job at Google or go on a spontaneous adventure with your friends. Just really try to make the most out of the short time you have here!
"It has been a real pleasure working with Freja. She has been selected our Co-Outstanding Senior Accounting Student, which is a testament to her outstanding academic work. Freja's service to the Accounting Department has been equally impressive — she is one of our 'go to' students for help at recruiting events. She has made a lasting impression with many on campus and in the community through her volunteer activities. Freja will soon be starting her accounting career at RSM, and the firm is fortunate to have her. She really did get the most from her time at Augustana, and I wish her the best of luck!"