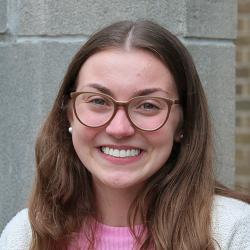 More Than I Imagined
Seniors reflect on accomplishments and look ahead
Georgia Votta
Graduation year: 2021
High school: Reed-Custer High School
Hometown: Essex, Ill.
Majors: Physics, applied mathematics
Minor: Computer science
Activities: Augustana Physics and Engineering Society (APES), Augustana Symphonic Band (ASB), Augustana Symphony Orchestra, Phi Beta Kappa academic honor society
Internship: Physics research on campus with Dr. Nathan Frank
Post-grad plans: I will be attending Michigan State University to pursue a Ph.D. in physics!
Why Augustana?
Coming from a small high school, I wanted to have the same sort of personal connection with my professors and peers that can only come from attending a smaller school. I knew Augustana was the right school for me after my very first visit! It was (and still is!) easy to see how much the faculty care for their students here. Also, having the opportunity to continue playing trumpet and being involved in clubs was another huge reason why I chose Augie.
Are you where you thought you'd be when you first came to campus?
Not at all! During these four short years, I have grown so much, both personally and academically. I never thought that I would travel out of the country, involve myself in numerous leadership roles on campus or do physics research for two years. I am so grateful for all of these opportunities, as they have shaped me into the person I am today.
Who helped you get to where you are now?
My research advisor, Dr. Frank, has been such a huge mentor to me, and will always be someone I look up to. He has provided me with so much knowledge and guidance during the two years I've worked in the lab with him. Without his support I don't think I would have even considered pursuing a Ph.D. in physics!
My two academic advisors, Dr. Vogel and Dr. Sward, have also been largely influential during my time at Augustana. Not only have they been wonderful advisors, but they have also taught some of my favorite classes I have taken here. Their passion for what they teach is inspiring, and definitely made learning difficult topics enjoyable.
My trumpet professor and band director, Dr. Lambrecht, has been a constant source of support to me since my very first week at Augustana. He has helped me build confidence in myself, both as a musician and as a person, which has impacted my life significantly.
Peak experience?
Although it's difficult to choose, I think one of the most rewarding experiences I've had was when I gave a talk about my research at a national physics conference this fall. This experience allowed me to take a step back and see my progress and how much I have learned during my two years of research.
What surprised you?
I was surprised by how involved I was able to be! I was always worried that I would have to make the difficult decision to give something up, but that was absolutely not the case at Augie. I was able to play trumpet in two ensembles, be on the executive board of APES, do research on campus, and still have some time to relax with my friends!
How did you use your Augie Choice?
I used my Augie Choice to go on the music and physics study abroad in Germany! I never expected to study abroad as a physics major, but when I saw there was a program that combined the two things I love most, I knew I had to go. It was an incredible experience that I will never forget.
What will you miss the most?
I am going to miss my everyday experiences at Augustana the most. I will miss seeing and chatting with my professors between classes and late nights spent working on homework with my closest friends. I will miss making music every day with the ASB.
Even little things like the Old Main bells and the stillness of the Bergendoff hallways on Friday afternoons will all be so difficult for me to leave behind.
Augustana will always hold a special place in my heart!
Advice for the Class of 2025?
Find your people! Surround yourself with those who will motivate you to be the best "you" you can be. Having a support system wherever you are in life is so important to your well-being and success.
"Georgia has been the quintessential non-music major student in the Augustana Symphonic Band. She came to Augustana as a talented trumpet player who wanted to continue to grow as a musician and as a person. Georgia has demonstrated that by working hard to achieve the co-principal chair her senior year, all while focusing on her physics studies that have led her to a fantastic graduate school, Michigan State University. Bravo, Georgia!"