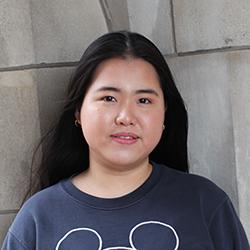 More Than I Imagined
Seniors reflect on accomplishments and look ahead
Giang Pham
Graduation year: 2021
High school: VNU-HCM High School for the Gifted
Hometown: Ho Chi Minh City, Vietnam
Majors: Biochemistry, biology
Activities: TriBeta (biology), Be The Match, chemistry and biology tutor
Internships: Summer Program for Undergraduate Research (SPUR) at the Medical College of Wisconsin; research trainee at BloodCenter of Wisconsin
Post-grad plans: I will be working as a research associate at Yale College of Medicine for two years, and later applying to a Ph.D. in immunology program.
Why Augustana?
Before coming to the U.S., I applied to as many colleges as I could and had no idea which one I wanted to be in. However, among those where I got accepted, Augustana offered great financial aid. While doing more research, I also heard great things about the school from a friend who was a current student at the time, which led me to my final decision to come here.
Are you where you thought you'd be when you first came to campus?
Yes, but not really. Before coming to Augie, I always knew that I wanted to study science and pursue it as my future career. However, I did not know exactly which field of science I wanted to be involved in and which type of career I wanted to do. Professors at Augie have helped me figure out my passion and encouraged me to follow it as my career path.
Who helped you get to where you are now?
I want to send my sincere appreciation to many people. My advisors, Dr. Gehler and Dr. Trotter, guided me through different science fields and helped me explore many options. They were always there when I needed their help.
I also could not have achieved my accomplishments without Dr. Dara Wegman-Geedey. She inspired me to learn immunology and supported me in finding research opportunities in every way she could.
I also want to thank Dr. Boquin for challenging me to be a better learner. I used to struggle with organic chemistry when I was in high school. I can't imagine I would have finally grasped the subject without his help.
Also, I would like to express my gratitude to my family and friends for their support and for being there for me.
Peak experience?
My peak experience was my summer research at Medical College of Wisconsin, during which I had an opportunity to design my own study. I learned so many things from my labmates, not only in technical skills but also transferable skills in doing science such as scientific communication, writing proposals, etc. I had a great time in Milwaukee and became more certain in my goal of pursuing a Ph.D. in immunology in the future.
What surprised you?
After four years, I came to realize that my own capacity could far exceed my initial expectations. Augustana not only supported me in achieving my plan, but also motivated me to believe in myself and pushed me beyond my limitations.
How did you use your Augie Choice?
I used my Augie Choice for the Summer Program for Undergraduate Research (SPUR) at the Medical College of Wisconsin.
What will you miss the most?
I will miss Hanson the most, especially for the feeling of inclusiveness and familiarity it brought. This is the place where I would greet and catch up with professors, hold in-depth conversations with my advisors, and spend hours studying with some of my best friends. To be honest, it was quite stressful every time I was in Hanson, but now, when I look back, everything becomes a beautiful memory.
Advice for the Class of 2025?
Talk to your advisors and professors. Befriend them. I cannot imagine how I would have achieved anything without their support. Just step up to ask for help, and you will have the greatest support network who will always be there for you.
"When I noted Giang's name as the lone sophomore registered for my winter 2018-19 immunology class, I was concerned the material might be too advanced. I emailed her to suggest she wait a year before attempting a course full of abstract concepts and complex acronyms. I needn't have worried: Giang was better prepared for the challenges of immunology than many of her classmates. I was an enthusiastic reference for her 2019 summer research internship in immunology at the Medical College of Wisconsin and for her 2020 summer project for Augustana's Texas Medical Center program. I look forward to seeing Giang continue to be both a go-getter and a shining star in immunology research."