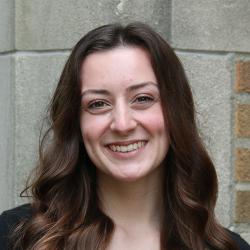 More Than I Imagined
Seniors reflect on accomplishments and look ahead
Haleigh Jacocks
Graduation year: 2021
High school: Geneseo High School
Hometown: Geneseo, Ill.
Major: Elementary education
Activities: Augustana Choir, Augustana Chamber Singers, Chi Alpha Pi sorority
Internship: Student teaching in second grade at Jane Addams Elementary School in Moline, Ill.
Post-grad plans: I have accepted an offer to teach second grade at Logan Elementary in Moline, Ill.
Why Augustana?
I never wanted to go to a big school where I would become another face in the crowd. When I visited Augie, I loved the campus, but I was more impressed by the passion of the students and faculty I met.
At Augie, I realized I would have opportunities in more than just my major, but in my personal goals and interests, too. Augustana gave me the chance to be more than a number, and I truly believe that only Augie could have given me the experience that I've had, and I wouldn't change a single thing.
Are you where you thought you'd be when you first came to campus?
Not at all! When I first came to Augie, I didn't think that I would step into any leadership roles, and was perfectly happy with "staying within the lines" in my time here.
Now four years later, my professors and friends have pushed me to really reach my fullest potential. I've experienced amazing leadership opportunities in some of the groups I have been a part of, and I think that helped me grow into the person I am today. I am confident now in who I am, what I can do, and what I can be.
Who helped you get to where you are now?
I couldn't be where I am right now without the incredible support system I have here at Augustana and beyond. First, I want to thank my family for their continued love and support throughout my life. I would not be who I am or where I am without you.
The education department here at Augie truly is something special, and they have not only fueled my passion for teaching, but also provided me with the tools I need to succeed and create change within my classroom.
Every single member of the ed department is incredible, and I hope to one day have the impact on my students that they have had on me. I cannot thank my advisor, Randy Hengst, enough, for putting up with every single one of my questions and challenging me outside of education-related topics as well.
Finally, I would not be where I am now without the amazing friends that I have made along my journey. Every day I wish that I had a little more time with the people here at Augie because the support system here is truly amazing.
Peak experience?
It's hard to choose just one! Some of my favorite experiences at Augie have been with the Augustana Choir. Not only have we had amazing tour experiences, performing in incredible venues, but we were also able to create the most special music right here at Augie during our rehearsals.
Even with everything going on this year, we were still able to meet and sing as an ensemble each day, and I will always treasure my time with the choir, especially in this last year with its challenges.
What surprised you?
How ready I was for student teaching. Due to the pandemic, I felt like a fish out of water; everything I thought I knew was constantly changing. But even though I couldn't see it at the time, I was completely prepared to step into the classroom. Once I let go of some of my anxieties, I realized that I was right where I was supposed to be, and ready for it.
How did you use your Augie Choice?
I used my Augie Choice my freshman year for the Augustana Choir's international tour in Europe. Over the course of three weeks, we visited Spain, France, Sweden, and spent a day in Monaco and Italy! The music we made was amazing, and it was one of the most incredible experiences I've ever had.
What will you miss the most?
I think one of the things that I'll miss most are the little moments that you can't plan. Some of my best memories here at Augie weren't any of the big events that you might think of (though those are still memorable!).
What I'll really miss though are the spur-of-the-moment adventures with my friends that turned into some of my best memories. I don't think I'll ever have all of my friends in one place like this again, and I really will miss that!
Advice for the Class of 2025?
Don't be afraid to reach out to your advisor and professors! They really care, and want you to succeed. There are so many resources available to you on campus so you can reach any goal you set for yourself. Time flies, so make the most of it and enjoy every moment.
"I have very much enjoyed working with Haleigh over the past three years in courses and as her academic advisor. I appreciated her contributions in classes, hearing about her work with children, listening to her sing and reading her poetry. It's been exciting to see her growth from the tentative steps of a sophomore in her first education course to the confident senior accepting a teaching position in the Quad Cities. She exemplifies the compassionate, caring frame of mind that will foster the achievement of the children in her classroom. Haleigh, plan now to serve as a cooperating teacher with us in the fall of 2024. Thank you for coming to Augie!"