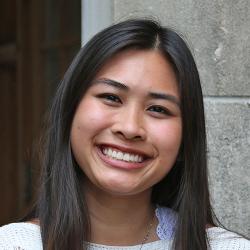 More Than I Imagined
Seniors reflect on accomplishments and look ahead
Jessica Nguyen
Graduation year: 2021
High school: Kaneland High School
Hometown: Elburn, Ill.
Major: Biology
Minors: Public health, chemistry
Activities: Varsity volleyball (captain), Leadership Academy, Best Buddies, Mortar Board Honor Society, Delta Chi Theta sorority
Post-grad plans: Brenau University's Occupational Therapy (OT) Program
Why Augustana?
One of the main reasons why I chose Augustana was because of the overnight stay I had before committing to play volleyball here. I got to meet the team, as well as their friends outside of the program. Every person I met was so welcoming. I wasn't afraid to act like myself nor did I feel like I had to pretend to be someone I wasn't.
After my overnight, I knew I would be able to succeed as a student-athlete as well as build an amazing support system along the way.
Are you where you thought you'd be when you first came to campus?
Looking back on my time here at Augie, I am happy with how much I have grown since my freshman year. I came to campus as a shy and introverted person, but after being more involved on campus and meeting new people, I was able to push myself out of my comfort zone to get out of my shell.
I feel more driven and confident in myself. I was able to accomplish so much more than I imagined with all the opportunities that pushed me to be the best version of myself.
Who helped you get to where you are now?
My family – Words cannot express how thankful I am for my family. They are my biggest support system and always love me unconditionally. I would not be where I am today without them.
My teammates and coaches – They saw my potential and always believed in me. They are my biggest hype women, and it was amazing to have been a part of a team that genuinely wants to see each other succeed. They always motivated me and pushed me to perform at my best.
My professors – For pushing me academically. They happily converse with me during their office hours and truly want to get to know me on a personal level, which I find really cool, and something you don't really see at larger schools.
My friends – They have always been there for me through the highest highs, and the lowest lows. I am forever grateful to have had them by my side these last four years and cannot imagine a college experience without them.
Peak experience?
It's hard to pick just one peak experience because I feel like my whole time at Augie was a peak experience. I always felt like I was surrounded by so many people who I could always count on and who would always be there for me. I have such a great support system here that I will cherish forever, and that is why Augie has given me more than I imagined.
What surprised you?
The close relationships I formed with my friends in such a short amount of time surprised me the most. They've picked me up at my lowest points and when I've doubted myself. I met so many amazing people at Augustana and created so many memories in a span of just four, short years that I will never forget.
How did you use your Augie Choice?
I traveled to Brazil for volleyball. We played against some competitive teams and were part of a social project for kids in underrepresented communities. We got to sightsee and learn about the culture. My experience was eye-opening and made me appreciate things I take for granted in my own community.
What will you miss the most?
I'll miss the tight-knit community. I'll miss my friends being a few doors down or even right across the hallway. I'll especially miss all the spontaneous road trips. My friends and I would always go on late-night food runs to Taco Bell or Wendy's after hours of studying and doing homework.
Friendships like these will last a lifetime, and even though my friends won't be right down the street next year, I know they'll still be one call away.
Advice for the Class of 2025?
Never turn down an opportunity to make some memories! These next four years will go by a lot quicker than you think, so don't take anything for granted and remember to cherish every moment.
"Jessica has achieved much success on the Augustana volleyball team! She has overcome multiple injuries and a challenging and uncertain senior year. Throughout all of this, Jess never lost her drive for success. She persevered due to her strong work ethic, selflessness and determination. She has grown into a leader and is highly respected by her teammates and coaches. It's been rewarding to watch her thrive at Augustana, and I can't wait to see all she achieves in the future!"