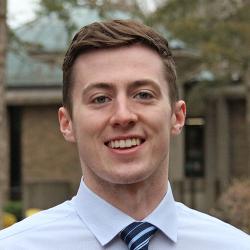 More Than I Imagined
Seniors reflect on accomplishments and look ahead
Justin Murphy
Graduation year: 2021
High school: Glenbard East High School
Hometown: Lombard, Ill.
Major: Biology
Minors: Psychology, public health
Activities: Varsity volleyball (captain), varsity soccer, Leadership Academy in the OSL, Phi Omega Phi fraternity
Post-grad plans: Work at Edwards-Elmhurst Hospital for a year to gain experience, then apply to grad schools for a physician assistant program
Why Augustana?    
I chose Augustana because of the people that I met on my visit, and the sense of home I received. It has also been a lifelong dream of mine to play volleyball as well as soccer in college, and Augustana gave me the opportunity to play both while receiving an outstanding education.
Are you where you thought you'd be when you first came to campus?
I saw the leaders around campus and in Greek life and that was what I wanted to be. As a senior, I am the director of Leadership Academy in the OSL, vice president of Phi Omega Phi and a three-year captain on the men's volleyball team. I have put my all into the past three years and would like to think I am today where I thought I'd be freshman year.
Who helped you get to where you are now?    
I cannot emphasize enough how supportive, encouraging and helpful my professors and coaches have been to me the past four years. I truly could not have done it without them and will be forever grateful to have been surrounded with such great faculty members who pushed me to become the best I could possibly be.
The upperclassmen I befriended freshmen and sophomore years were huge influencers on my work ethic and dedication in and out of the classroom, and I would like to thank them as well for the support.
Most importantly, my family has and will always be an undying source of love and support that I use to keep moving forward. I always have them to lean on when things go sideways.
Peak experience?
Very hard to pick one peak experience. I would say the times in which I was surrounded by my closest friends, whether it be hanging out, playing sports or at an event of some sort. The memories I have made are priceless, and I will cherish them for the rest of my life.
What surprised you?    
How close and strong the relationships I have made with my professors are. The personal connection to all of my professors has made my academic experience so much better in every way possible.
How did you use your Augie Choice?    
I was intending on using my Augie Choice toward a soccer trip to Spain and Portugal. However, with COVID and regulations instated, we unfortunately were forced to postpone the trip.
What will you miss the most?    
I will most definitely miss the people and the sense of family at Augustana the most. On the court, field, classroom and anywhere on campus, I have made friendships that will last a lifetime. The support and encouragement given to me by Augustana is something that cannot be imitated anywhere else.
Advice for the Class of 2025?    
Never doubt yourself and make the most of every second.
"As faculty mentor to the men's volleyball program, I met Justin when he joined our inaugural team in the fall of 2017. He was enthusiastic, friendly and very eager to be a part of something historic. With the help of Coach Ducey and his teammates, Justin helped grow Augie men's volleyball to one of the most successful programs in the Midwest. He has truly embraced the Augie 'get involved' ethos. Balancing a varsity sport and studies is nearly impossible. Justin has not only figured it out, he's mastered it. He's a fine example of what we hope our students find when they get here — opportunities to grow in the things they love and find things they never imagined."