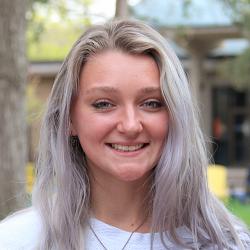 More Than I Imagined
Seniors reflect on accomplishments and look ahead
Kalli Majewski
Graduation year: 2021
High school: Mundelein High School
Hometown: Mundelein, Ill.
Majors: Pre-medicine, neuroscience
Minors: Philosophy, biochemistry
Activities: Varsity tennis, varsity track & field, Big Brother Big Sister, Sigma Pi Delta sorority, general chemistry proctor, assisted research student for neuroscience
Internships: Closet 2 Closet, Texas Medical Center
Post-grad plans: I will be continuing my Texas Medical Center internship at MD Anderson and then working in a hospital while I study at the Art Institute of Chicago so that in the future, I can get my master's in neurobiology by continuing my research on creativity and going to physician assistant school.
Why Augustana?
Going to a different university my freshman year gave me more insight on what I wanted out of a school. Initially when I visited Augustana, I was coming to visit my best friend from high school; however, the [admissions] visit was a breath of fresh air.
Everybody had welcomed me with open arms and was so willing to tell me about their own Augustana experiences. The more I listened, the more I became motivated to have similar experiences of my own, and I felt excited for all the things Augustana had to offer.
Are you where you thought you'd be when you first came to campus?
Paths always change — so no. I am not exactly where I envisioned myself to be when I first came three years ago. Instead, I am in a place I couldn't even envision then because I did not know all of the experiences and opportunities I had since then were possible. I have achieved many goals I did not initially set for myself and through every disappointment I might look back on, I can now see I have been rewarded with far more success in the long run.
Who helped you get to where you are now?
If it weren't for my mom's willingness to answer her phone whether it was 2 a.m. or 11 p.m. — either about a problem or to tell her how my chicken nuggets tasted — I think getting to graduation would have felt a little lonelier. And for my dad's ability to make any situation goofy and helping me no matter the situation. Without you, my car would have broken down years ago. My entire family supported me through everything and constantly reminded me to be proud of myself.

My teams and coaches always lifted me up. Whether it was a joke from Coach Dave between 400 repeats or a bus conversation about candy bars that are good on s'mores with Coach Miedema, I always felt better about waking up for morning practices or standing in the rain at meets.
Without becoming a member of these teams, I wouldn't have the incredible friends who filled my life with fun.
And I thank Dr. Storl, Dr. Harrington and Dr. Gordon, who always pushed me to reach the potential they saw in me and never doubted my ambition.
Peak experience?
Traveling abroad in Germany. This was the defining experience that motivated me to study neuroscience and philosophy. Both the neuroscience convention at the Max Plank Institute and the courses taught by Dr. Storl and Dr. Harrington sparked my curiosity in brain sciences and research, which made me grow as a student. I had also never been abroad before, so being able to explore more of the world with some of my friends was incredibly memorable. I can't wait until we all go back!
What surprised you?
I am astonished by the person I have become and the amazing people I have in my life. Augustana has given me the opportunities to grow into this intellectual, determined and personable person that I am today. I look at the world through different lenses. I am so thankful for all of the memories and friendships I have and for what each person has brought to my life.
How did you use your Augie Choice?
I used my Augie Choice to fund my study abroad to Germany. This was one of my most memorable college experiences, and I was able to do so much on this trip. I am so thankful that Augustana provided me with such a stipend to make it possible.
What will you miss the most?
I will miss the community here a lot. Being able to walk to class and say hi to a few people along the way would always start my day off on a better note. Even having the ease of popping my head into a few of my professors' offices for a quick conversation was one of the ways I was able to start so many projects.
Although I am happy to know many of my friendships will remain close and I can always reach out, I will miss my daily life being surrounded by so many enjoyable things.
Advice for the Class of 2025?
Every complaint is a missed appreciation of an opportunity. This past year has been challenging and on occasion, I found myself complaining about assignments or having to go to practice. Recently I've tried thinking about how these are all opportunities I am fortunate to have and will miss one day.
"As a transfer student, Kalli has done more with her time at Augustana than most students who spent all four years here. She studied abroad with the neuroscience trip to Germany, participated in multiple research opportunities, completed an in-depth Senior Inquiry (and follow-up!) project, and was accepted to the Texas Medical Center program. All of this while completing two majors and two minors and participating in athletics. She has accomplished so much and should be immensely proud of her success."