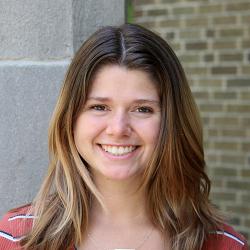 More Than I Imagined
Seniors reflect on accomplishments and look ahead
Katherine Iverson
Graduation year: 2021
High school: Oswego High School
Hometown: Oswego, Ill.
Majors: Psychology, business administration (management)
Activities: Varsity cross country, varsity track & field, Student Government Association, Ultimate Frisbee, Sigma Pi Delta sorority
Internships: Marketing internship with a nonprofit organization called For WellBeing; camp counselor for Group Mission Trips as a hospitality leader
Post-grad plans: TBD
Why Augustana?
Once I walked onto campus, I could feel a welcoming environment and a sense of belonging.
Are you where you thought you'd be when you first came to campus?
I knew I would love this school and the opportunities it had to offer, but I did not expect to meet some of the most special people in my life that I now consider to be lifelong friends. I also did not expect to grow so much over these past few years as an individual.
Who helped you get to where you are now?
My closest friends and my mom helped push me to be the best version of myself. They were there for the good times and the bad times, and were supportive of me through it all.
Peak experience?
To say that there was one moment that could cultivate a peak experience would not be fair to my overall time here. For me, the peak was the people, who taught me how to live in the moment, pushed me to dig deep and accepted me for who I am.
What surprised you?
During my time here, I learned how to become a confident leader, an eager learner and an overall well-grounded person. I am not the same person who walked onto campus during Orientation Week.
While there were times that truly tested me, I am thankful for each and every moment because they shaped me into the person that I am today, and who I will be after Augie.
How did you use your Augie Choice?
I studied abroad in Guatemala to better understand how adolescents develop. We were immersed into the culture, and while I am not fluent in Spanish, I have never felt more connected to a group of people. They taught me about the power of kindness and perseverance.
What will you miss the most?
When I leave I won't be leaving behind an institution but instead lifelong friendships and a place I have gladly called home. I will miss spending nights being slap happy with my roommates, as well as the countless hours with my teammates who have pushed me to become the best version of myself.
When I leave Augie, I will feel a void, but I know the people and experiences I have gained here will always be a part of me.
Advice for the Class of 2025?
Be present in the moment, even though it may seem like just another day. Eventually those days will be numbered, and you will be sitting with your roommates reminiscing about all the good times. So don't take a single moment for granted because college truly goes by fast.
"What a joy it has been to coach Katie in cross country and track! She always brings positive energy and determination to practice and races. She, like everyone, has had ups and downs, such as dislocating her shoulder a few times, but her persistence and confidence have led her to great improvements over four years. Katie has a bright future, and as I have told the team, 'If you want to learn how to excel in running, getting along with others, being a leader and enjoying the process, follow Katie Iverson.'"