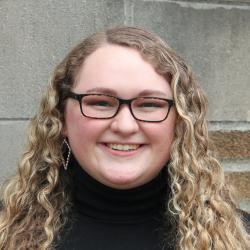 More Than I Imagined
Seniors reflect on accomplishments and look ahead
Katherine Streicher
Graduation year: 2021
High school: Sycamore High School
Hometown: Sycamore, Ill.
Major: English education
Activities: Zeta Phi Kappa sorority, Club Ed, Polka Dot Project
Internship: Student teacher at Bettendorf Middle School in Bettendorf, Iowa
Post-grad plans: Teach language arts for grades 6-12
Why Augustana?
I had visited a few colleges before Augustana, but none of them felt quite right. Once I visited Augustana, I immediately could tell it was going to be the place I would call home for the next four years.
Not only was the campus beautiful, but what really makes Augustana such a special place is the people who call Augustana home. In addition to that, there is a small faculty-to-student ratio, and I knew that I would be able to create close bonds with my professors if I needed help or advice.
Are you where you thought you'd be when you first came to campus?
I am really proud of how much I have grown. I found my best friends here as well as some of the most dedicated professors I've ever met. Augustana has provided me with such a strong support system that I was able to gain confidence and become the leader that I never knew that I could be. This confidence has translated into my teaching, and I could not be more grateful for the support system that helped me to get to where I am today.
Who helped you get to where you are now?
I wouldn't be where I am today without the incredible professors who make up the education department.
The passion that every single professor puts into their class and into their students really shines through, which helps students become the best possible teachers that they can be. The professors in the education department never give up on their students and constantly encourage and push us to reach the full potential that they see in us.
I would especially like to thank my advisor Katie Hanson for spending so much time working with me and for always believing in me.
I would also like to thank my parents for all of their endless love and support. They have always pushed me to be the best version of myself, and I'm grateful for all of the late-night phone calls from them, putting their faith in me when I needed it the most!
I also would like to thank my friends and sorority sisters for all of the love and support they constantly gave me. It means more to me than they will ever know!
Peak experience?
My peak experience was studying abroad in Norway. I was able to experience all of the culture, ranging from dog sledding, to eating reindeer soup, to chasing the northern lights! I also was able to visit a Norwegian classroom and learn more about the education system in Norway, which has helped to shape my teaching philosophy!
What surprised you?
How prepared I feel to be a future educator! I wasn't sure how confident I would be by the end of my time at Augustana in my teaching abilities. However, the education department has prepared me for the job search and provided me with the skill set necessary to be the best teacher I can be for my future students!
How did you use your Augie Choice?
I used my Augie Choice to help fund my study abroad trip to Norway.
What will you miss the most?
What makes Augustana amazing is the people who make up this campus. I am going to miss seeing so many friendly faces in the same place that we call home. It's weird to think that we will never all be in the same place at the same time again since we have all spent so much of our last four years here together. However, I am grateful that Augustana has given me lifelong friends that I know will be by my side long after graduation.
Advice for the Class of 2025?
Don't take anything for granted. The pandemic has really taught me how to appreciate every moment that I was fortunate enough to experience at Augustana. Make sure to take it all in because your next four years here will fly by in the blink of an eye!
"I have had Katie in five classes, and I supervised her student teaching semester. She is curious, creative, smart and hardworking — a great combination. When Katie traveled in Norway for 10 days on our J-term, I also discovered how fun she is to be around. I will really miss her when she leaves Augie to go teach in some very fortunate school district."