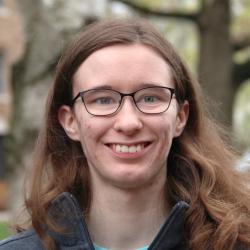 More Than I Imagined
Seniors reflect on accomplishments and look ahead
Katie Syer
Graduation year: 2021
High school: Maine South High School
Hometown: Park Ridge, Ill.
Major: Secondary education – physics
Activities: Chi Omega Gamma (COG) sorority, Augustana Physics and Engineering Society (APES), APS-IDEA Mentoring Program, Golden Apple Scholar
Internships: Clinicals through Golden Apple in the suburbs of Chicago; student teaching at United Township High School, East Moline, Ill.
Post-grad plans: Teach in a high school in Illinois
Why Augustana?
Augustana really just felt like the right fit. When I visited, people were nice and I loved the campus. I had also heard that the Augustana education program was really good so that factored in my decision as well.
Are you where you thought you'd be when you first came to campus?
When I first came to campus, I didn't really know where I was going to end up. I am a pretty shy person so getting involved in stuff wasn't a priority for me at first. I was on cross country and track freshman year, which I loved at the time, but after I got involved in COG and APES, I made the decision to do things that would expand my horizons and give me experience for my future as a teacher.
Who helped you get to where you are now?
More people than I can count have helped me on my journey. My dad and my brother have kept me grounded. My peer mentor and my CA freshman year helped me gain confidence in myself and get involved in groups on campus outside of track. I met both of my current roommates on the track team my freshman year, and they both have supported me socially, mentally and emotionally.
The girls in my sorority have helped me grow professionally and pushed me to educate myself on diverse and cultural topics that I would never had known about without being part of COG.
My classmates and professors in the physics department have helped me grow as a leader, and my experiences through APES have given me opportunities to grow in my major. The education department has given me a basis for my future career, also helping me grow professionally and giving me the confidence and tools I need to succeed in the future.
Peak experience?
The best experiences were the Spring Into Physics! program and PhysCon. Both of these were events that I was able to do through APES. Spring Into Physics! was an outreach program I helped build from the ground up. We went to a nearby elementary school and led students in a variety of engineering challenges, including building bridges and towers. PhysCon was a physics conference we went to in Rhode Island. It happens every four years through the Society of Physics students.
What surprised you?
The biggest thing was how much I was able to grow as a person and learn about myself along the way. I've found out so much about myself and just about life in general from being part of a liberal arts program, and interacting with all the amazing people I have met on my journey at Augie.
How did you use your Augie Choice?
I used my Augie Choice for my student teaching experience. My student teaching took place at United Township High School, where I taught college prep and AP physics to 11th and 12th graders.
What will you miss the most?
I'm going to miss the opportunity to freely do new things. Post-graduation, I'll have money so maybe I can travel or have new experiences, but at Augie it's different. I won't have the same freedom to explore. My schedule permitting, I can go to a variety of events and clubs, and even in the clubs I'm in, we constantly do different things. I am blessed with the opportunity to have opportunities, and that's something I'll miss after I leave.
Advice for the Class of 2025?
Take advantage of every opportunity that comes your way. You only do college once. Sure, grad school exists, but it's different. Everything you do will help you grow and potentially find the people who will support you and help make your Augie experience special.
"Katie has accomplished so much in four years! She is an excellent student, wonderful physics tutor, and contributor to many efforts within student groups such as APES (Augustana Physics and Engineering Society). She enjoys learning and teaching fellow students anything physics related. She has a deep passion for teaching, which made her a great physics tutor. She co-led an elementary school outreach called Spring Into Physics! performed by APES and a new mentoring effort within the physics department. She cares deeply about her fellow students and wants everyone to be successful. We look forward to watching her inspire her future high school students just like she has inspired us."