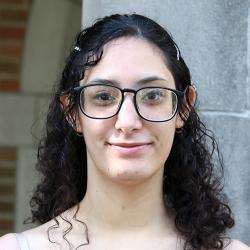 More Than I Imagined
Seniors reflect on accomplishments and look ahead
Katrina Rodriguez
Graduation year: 2021
High school: Fieldcrest High School
Hometown: Minonk, Ill.
Majors: Asian studies, international business
Minor: Chinese
Activities: Augie Acres, G.S.A., Society of Anthropology and Sociology Students
Internship: Augustana Human Resources internship
Post-grad plans: I aim to tutor English and study Chinese in China before pursuing a possible career in human resources.
Why Augustana?
When I was making my college search, I was not really sure what to look for. What attracted me to Augustana was its small campus and variety of majors. I liked how Augustana was more interactive and welcoming due to this. I ended up switching my majors by the end of freshman year, and due to these features of Augie, this helped enrich and aid my experience here. I have liked learning about a variety of subjects.
Are you where you thought you'd be when you first came to campus?
I wouldn't say I am where I thought I'd be because I was really not sure where I would be right now. I don't think this is something my younger self would have imagined though. I feel that I have come a long way and am glad that I was able to grow over these last few years.
Who helped you get to where you are now?
Many people have helped me up to this point. Of course, my family for always being here for me and my friends for supporting me through rough times.
When it comes to faculty and staff, the list can go on and on for me. Nirmala Salgado is one of my advisors who has pushed me to be the best I can be and aided me in so many ways.
I want to thank many in the Asian studies department, but especially these three teachers: Ma Lao Shi has helped me network and was supportive despite that I had few classes with her. Zhang Lao Shi has been teaching me for a few years now, and I am thankful to have her as a guide. Finally, I note Dr. Lawrence's faith in me and my work, and especially her patience with me through hard times.
I also want to pay respect to my other advisor Ann Ericson and other teachers in the business department for their everlasting support.
Brian Stone is my boss at the CSL, and I am so thankful for the experiences he has been able to provide me and for his faith in me to get the job done!
Peak experience?
I have had great experiences — from working in the dining hall to going to festivals and events with different friend groups — but especially events like Sloughfest, going to different religions' places of worship, and visiting a Taiwanese cultural center in Chicago. I especially love that I've been able to learn about new cultures, both in class and through the lifelong friendships I have made.
What surprised you?
What surprised me the most is how much I have changed and others have changed in these past four years. It felt like I was a freshman not long ago, and back then it was hard to even feel like an adult. I've gone through many experiences now, and the person I am today is much different, but in the best of ways.
How did you use your Augie Choice?
Originally I aimed to go on the "3 Chinas" trip through Augustana, but due to COVID-19, these plans fell through. As a result, I reached out to Augustana's human resources and was able to have an internship experience in their office. I used my Augie Choice as a stipend for my work.
What will you miss the most?
I will definitely miss all the friends and connections I have formed here. I made many memories, good and bad, and it will be very strange to not make any more at the place where I have spent much of my young adult life. One of my life goals was to make it to and through college, and now that I've done it, I can cherish these memories moving forward.
Advice for the Class of 2025?
Make the most out of your college experience. Always seek help when it's needed and don't be afraid to speak up. And most importantly, take chances. If I had not tried to combat my anxiety and pursue the experiences I wanted to be a part of, I would not be writing this today.
"Katrina always approaches difficult and controversial topics with a rare combination of conviction and open-mindedness. This is what the world needs right now."