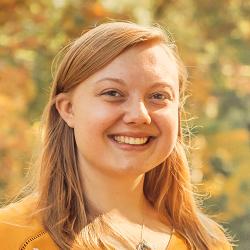 More Than I Imagined
Seniors reflect on accomplishments and look ahead
Kayla Dillon
Graduation year: 2021
High school: Huntley High School
Hometown: Huntley, Ill.
Majors: Biology, psychology
Minor: Spanish
Activities: Augustana Symphonic Band, CORE, The Gray Matters Collective, Chi Alpha Pi sorority, Phi Beta Kappa academic honor society
Internship: Intern with Substance Use Disorder (SUD) Allies, a state AmeriCorps program administered by the Public Health Institute of Metropolitan Chicago
Post-grad plans: Associate research specialist for the School of Pharmacy at University of Wisconsin-Madison
Why Augustana?
I chose Augustana because of the strong sense of community and belonging. I felt very welcomed at Augustana. All of the staff, faculty and students I met during my visits were incredibly kind. Another reason was its focus on interdisciplinary education. I came to college with several interests and passions, and I was able to explore all of them both in the classroom and through other groups.
Are you where you thought you'd be when you first came to campus?
Absolutely not. I thought I knew exactly what I wanted when I stepped onto campus on my first day here. I thought I wanted to be an endocrinologist and go to medical school after I finished my degree at Augie.
Along the way, though, there were several "game changers" -— experiences that redirected my path based on new interests and passions. I ended up some place even better than where I thought I'd be by now, and I couldn't be more excited to step into my new role at UW-Madison.
Who helped you get to where you are now?
Of everyone who has supported me along the way, I would say parents and my brother have certainly been my biggest fans. Every accomplishment I've had at Augie are truly our accomplishments because I couldn't have done it without them.
Over the past four years, there have been a lot of individuals who have helped me. My advisors for both my majors, Dr. Larson and Dr. Szafran, guided me to take classes and pursue opportunities that interested me, even if they didn't seem to exactly "fit" with a major — this is the beauty of a liberal arts education.
Dr. Lorenz was one of my most influential mentors. She taught me not only the inner workings of a lab, but also how to conduct myself professionally in the world of higher education. She also helped me figure out my next steps for post-graduation.
The CORE staff have also helped me tremendously. Keri helped me discern my goals for myself, and Joe helped me prepare the applications to reach them.
Peak experience?
I don't have a singular peak experience, but several across all of the things I've been part of at Augie.
One of the most rewarding experiences, though, is being on the team that started the Augustana Baby and Child Development Lab in the psychology department. We presented our first study at the Midwestern Psychological Association conference in April 2021. It is incredibly rewarding to be part of the team that started up the lab and attended the conference.
What surprised you?
I was surprised at how much time my professors and mentors invested in my success. There were times when they would reach out to me first to check in or to follow up from a previous conversation. I was so surprised and thankful to have such a reliable and supportive network.
How did you use your Augie Choice?
I used my Augie Choice for the service learning study away trip to Guatemala — another peak experience!
What will you miss the most?
One thing I will miss the most is the Augustana Symphonic Band (ASB). The entire ensemble is like a family, and I've always felt welcomed and wanted there. I joined the ensemble when I was going through a hard time, and they welcomed me with open arms. ASB accepted me at my worst, supported me at my best, and cared about me all along the way. I will forever be grateful to be part of this musical family at Augie.
Advice for the Class of 2025?
Don't be afraid of 'game changers.' Every opportunity that comes your way — take it. Even if it doesn't seem to 'fit' with what you expected for yourself, take it. You never know if that will be the opportunity that introduces you to a new passion/interest you didn't even know you had.
"Kayla is among the brightest, most compassionate students I have ever had the pleasure of knowing. She is persistent and fiercely dedicated to all that she does, and I feel incredibly grateful to have had her as a founding research assistant of the Augustana Baby and Child Development Lab. Kayla will undoubtedly be the next big thing when she takes UW-Madison by storm this summer, and I look forward to watching her flourish in all her future endeavors!"