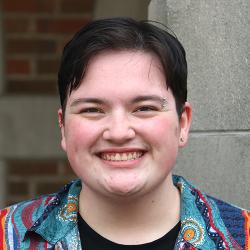 More Than I Imagined
Seniors reflect on accomplishments and look ahead
Liam Russell
Graduation year: 2021
High school: Minooka Community High School
Hometown: Minooka, Ill.
Major: Physics
Minor: Chemistry
Activities: Augustana Symphonic Band, Augustana Physics and Engineering Society
Internship: Dr. L. Jones Natural Science Fellowship
Post-grad plans: I will be pursuing a Ph.D. in molecular and cellular biophysics at the University of Denver.
Why Augustana?
Augustana combined everything I wanted in an undergraduate school. The smaller nature of the physics department gave me a kind of individualized instruction that I have found incredibly valuable. Outside of my major, being able to participate in the ASB [Augustana Symphonic Band] was a big part of choosing Augustana. I have been so incredibly fortunate to be able to play in such a wonderful ensemble as a non-music major. My closest friends in college have been made through ASB.
Are you where you thought you'd be when you first came to campus?
My journey has definitely changed since my freshman year, but I think what I have going on now is better than anything I could have imagined four years ago. I never thought I was smart enough to pursue a Ph.D., but all the awesome experiences I was given in the physics department helped me build a strong résumé that got me into multiple grad schools.
Ultimately, I've decided to continue my education at the University of Denver, pursuing a Ph.D. in molecular and cellular biophysics. This sub-specialty of physics combined my interests really well, and while it is not what I came to Augustana planning to do, I am very excited about my direction going forward.
Who helped you get to where you are now?
My advisor Dr. Cecilia Vogel, my twin. She's just the coolest, and she's always pushed me to be the best version of myself. 
Our department head, Dr. Nathan Frank, has been an amazing resource for me, both academically and emotionally. I hope to be just as welcoming and caring to my students one day.
My band director Doc, who's always had this way of making everyone feel welcome with him. I speak for many ASB members when I say he has become like a father to me. Thanks for the music, Doc. I'll hold it with me forever.
All of my physics major friends present and past, including Georgia, Drew, Oscar and Matt. Thank you all for being my people from the very beginning.
My best friend Luke McMillan, who is basically my favorite person in the whole world. He challenges me intellectually and personally, and I am truly a better person from just knowing him.
And finally, my parents and siblings. I love you all very much, and I would not have been able to make it through undergrad without you.
Peak experience?
Working through my Senior Inquiry this year has been so cool. I'm doing some research in the optics lab run by Dr. James van Howe, and I've learned so much from him and through the process of doing research. Aside from that, I've traveled with both the symphonic band and orchestra, and those trips are some of the most memorable experiences of my life so far.
What surprised you?
I have been so surprised by how much I enjoy the quirks of a small school. I always pictured myself going somewhere larger, but now that I've experienced everything Augustana has to offer, I can't imagine anything else for myself.
How did you use your Augie Choice?
I went on a trip to Germany the summer after my sophomore year! That was such a cool trip. We learned all about the music and engineering and culture of the German state, which perfectly combined my love of physics and music.
What will you miss the most?
Everything — I'm really sad to be leaving Augie, but excited for the next step in my journey.
Advice for the Class of 2025?
Enjoy the little things! The late-night homework sessions and grocery store trips and bar crawls will be some of your fondest memories when you're at the end of undergrad, so don't take them for granted.
"Liam is one of those people who lights up the classroom or research lab. He is not only able to carry out high-level work, but seems to be thoroughly enjoying himself while doing it! What's more, he has a gift to bring others into this joyfulness. He takes his work seriously but helps remind his peers (and his advisors/professors too) of the beauty, freedom and excitement in what we have the privilege to learn together. He has helped make me remember how lucky I am to be teaching physics and the thrill of still learning new things myself. Liam's deep curiosity, playfulness and ability to persuade others to join him will serve him and his future colleagues well."