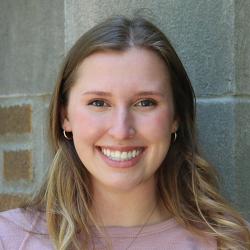 More Than I Imagined
Seniors reflect on accomplishments and look ahead
Madelyn Prodoehl
Graduation year: 2021
High school: Batavia High School
Hometown: Batavia, Ill.
Major: Communication sciences and disorders
Minor: Spanish
Activities: Mortar Board honor society, Augustana Symphony Orchestra, Omicron Delta Kappa honors society, Student Speech-Language-Hearing Association, Phi Beta Kappa academic honor society
Internship: Augustana Speech, Language, and Hearing Clinic
Post-grad plans: I will be attending Elmhurst University for my master's in speech-language pathology!
Why Augustana?
Before going away for college, I was extremely nervous. So much so that the idea of college was something that I avoided discussing. However, after my first time visiting Augie, my nerves were eased. From the people I talked to throughout the visit, Augie felt as if it would become a second home. This was the only school where I felt at home so quickly; therefore I knew Augie was the place for me!
Are you where you thought you'd be when you first came to campus?
When I first came to campus, I was unsure of what I wanted my future to look like. After meeting the faculty and experiencing the communication sciences and disorders department for the first time, I knew speech-language pathology was where I belonged.
Augie allowed me to explore my interests and find my niche. These opportunities led me toward a future I am so excited for!
Who helped you get to where you are now?
The immense support I have had over the past four years has allowed me to thrive. I would not have been able to succeed as much as I have without the constant support from my mom, dad, brother and sister. They have always been my biggest cheerleaders and push me to be a better person every day.
I also would not be where I am today without the support from supervisors and professors.
My violin lesson professor, Dr. Stone, has been my weekly supporter since freshman year and has always encouraged me to be the best I can be as a musician and as a person.
My CSD advisor Dr. Haskill has supported me in every decision regarding graduate school and future plans. Lastly, my clinical supervisors Ms. Williams and Ms. Logan have encouraged my clinical growth and given me confidence and skills that I will use as a speech-language pathologist.
Peak experience?
My peak experience has definitely been working in the Augustana Student Center for Speech-Language and Hearing. During the past year, I have been able to obtain over 40 hours of hands-on clinical experience. This experience not only solidified my decision to pursue speech-language pathology, but also gave me clinical and professional skills that I will bring with me to graduate school and beyond.
What surprised you?
What surprised me the most is how much I have changed as an individual over the past four years. Augie pushed me to put myself in situations that allowed me to grow as an individual. I am no longer the timid first-year student I was four years ago. I am much more confident in my academics and beyond.
How did you use your Augie Choice?
I was supposed to walk the Camino de Santiago in Spain during the summer of 2020. However, these plans were canceled due to COVID-19. This is still a trip I aspire to take some day, and I will use all of the gear that my Augie Choice helped me get!
What will you miss the most?
I will surely miss the people I have met. From professors, to supervisors, to best friends, Augie gave me some of the most amazing people who will be part of my life forever.
Advice for the Class of 2025?
Stay true to yourself! Do what makes you happy and what you feel will allow you to grow in the long run.
"Madelyn is an instructor's dream. She is a thoughtful, dedicated and teachable student. Having her both in the clinic and working with her on her SI paper this semester, I have witnessed Maddie's work ethic and fortitude during a particularly challenging year. She enters each clinic session with a positive disposition and cheerful smile, and approaches our meetings with openness and eagerness to learn. It has been a joy to watch her continue to grow in both her clinical and academic abilities. I have no doubt that she will make a positive impact in our field in the years to come. Way to go, Maddie!"