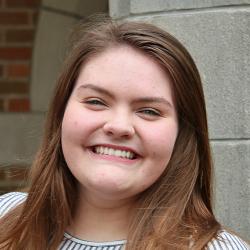 More Than I Imagined
Seniors reflect on accomplishments and look ahead
Makenzie Walk
Graduation year: 2021
High school: Hall High School
Hometown: Spring Valley, Ill.
Majors: Business administration (marketing and management) 
Minor: Graphic design
Activities: Advertising Developers (ADs), International Family Therapy Association
Post-grad plans: I got a management position offer, but turned it down to find something I truly enjoy. So for now I am just looking to move to the West Coast for a position in marketing, specifically looking in product marketing management or brand management. I also want to start an online MBA program within about a year after graduating from Augie.
Why Augustana?
I chose Augie because I wanted to make sure I could easily talk to and connect with professors. At my other prospective schools, this process was a very intimidating and difficult one. I know the connections I made at Augie would not have been as seamless and inviting at the other schools I considered.
Are you where you thought you'd be when you first came to campus?
When I came to Augie, I had a vague idea of what I wanted to become, but I never knew the reason why. I think I exceeded my expectations as a freshman because I figured out what I wanted to be and why, and I also dug deeper to find my values that fueled my decisions for my future.
Most people hear marketing and just think advertising to sell. However, this field has been changing for decades. I want to be a part of that change because I truly value learning about and understanding people.
Who helped you get to where you are now?
My family has helped me immensely. They always encouraged me to do my best and were there whenever I needed them. However, I am a first-generation college student so when it came to my decisions in higher ed, it became difficult to help me in some situations.
On the other hand, I think my friends and professors at Augie helped me realize where I wanted to go as well as who I wanted to be as a person and in my career. They understood how college shapes a person and used that to help me discover my values and passions.
Peak experience?
My peak experiences revolve around my participation in Advertising Developers. I loved going to the competitions where I got to hang out with and get to know my team. I had fun while also participating in something meaningful to my career!
What surprised you?
Though I knew connecting with professors would be easier here than at some of the big schools, I was pleasantly surprised at how willing professors are to help their students. Professors here are typically super available for students and will even take time from their home life to help a student!
What will you miss the most?
I don't think there is a simple answer to this question. I will of course miss the people: the friends I've made along the way and the professors I have gotten to know. I'll also miss the late nights, goofy hangouts and fun campus activities. Yet, I think I will mostly miss just being on campus. Even in the midst of stress and chaos, it still feels like a safe and happy place.
Advice for the Class of 2025?
Do what is best for yourself, even if people you care about are telling you something different. I turned down a position post-grad that I knew I would not enjoy, and it turned out to be the best decision I could have made for myself.
"Makenzie has demonstrated a commitment to excellence during the time I have known her, a commitment that goes beyond that of a standout student. Makenzie has demonstrated the ability to apply what she has learned to a variety of real-life situations. In addition, of her many fine qualities, the one I believe to be most beneficial is her ability to be honest, with herself and others with whom she interacts. A successful leader is focused on the change coming tomorrow, so the rest of us can have a better today. Our future will be in great hands with Makenzie leading the way in any fashion. Thanks Makenzie."