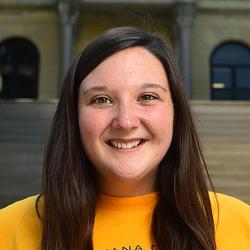 More Than I Imagined
Seniors reflect on accomplishments and look ahead
Molly Bastida
Graduation year: 2021
High school: Rosati-Kain High School
Hometown: St. Louis, Mo.
Majors: Communication sciences and disorders (CSD), religion
Minor: Interreligious leadership
Activities: Camp Kesem, Chi Alpha Pi sorority, Office of Student Life and Leadership
Internship: Heartland Hospice Care
Post-grad plans: I will be attending Illinois State University for a Doctorate of Audiology (Au.D.).
Why Augustana?   
I chose Augustana because after my overnight visit as a high school senior, I could see myself growing into the person I dreamed of becoming. I knew that I would have the best options to grow academically and personally at Augustana. Consistently through my four years, the faculty has supported me in any endeavor I dreamed of doing while pushing me to be not only the best student, but also the best version of myself in all facets of my life.
Are you where you thought you'd be when you first came to campus?  
I am so much further than I thought I'd be when I was a freshman. Coming into freshman year, I knew as a first-generation college student I wanted to make the most of my college experience. Little did I know that meant developing lifelong friendships, leadership skills and passions on and off campus that I never knew I had. I never knew what I was truly capable of achieving, but thankfully Augustana had faith in me and supported me in ways I never knew possible.
Who helped you get to where you are now?    
The 1000 characters I'm allowed for this question is not sufficient to address all the people I owe credit for helping me grow into the person I am. First, my family. They have shown me endless love and support in everything I have done in my time at Augustana.
Next, every faculty member in the CSD and religion departments has influenced, mentored and pushed me to become not only the best student, but holistically the best version of myself. I found two distinct majors that are now embedded into my values personally and as a professional.
In addition to academics, my leadership skills grew in the Office of Student Life and Leadership, and I would not be the leader inside and outside of the classroom without the mentors and other students within the OSL.
Finally, without the love and support of my friends, I would not be writing this post. Some of my biggest role models are my friends. Without the laughs, tears and adventure in between, I would not be the person I am today.
Peak experience?    
After a long day of working at Elephant Valley Project in Mondulkiri, Cambodia, on my junior year study abroad trip, I was sitting on a hammock looking over the jungle. I knew in that moment that everything I had been working for at Augustana had accumulated to being able to study abroad. Through double majoring, working and being involved on campus, I achieved the goal I had set for my freshman self — to study abroad.
What surprised you?    
I was surprised at how much I came to love the Quad Cities. Coming from St. Louis, I was intrigued to see what a small city was like. I absolutely love the Quad Cities, and I truly feel like I'm a part of a very friendly, supportive community larger than just Augustana.
How did you use your Augie Choice?    
I used my Augie Choice to study abroad in Cambodia during J-term of my junior year. Little did I know it would be the last time I would be traveling for awhile. We flew back just as the global pandemic began in the United States. I am so thankful I had the opportunity to take that trip!
What will you miss the most?   
I will miss being able to walk on the Quad or in the Brew and saying hi to so many people I know. I love that everyone is outgoing on campus, and I know I'm going to miss that community feel as I go on to grad school. Of course, friendships and relationships with faculty members will not be the same, but I am excited to see those grow as the years go on.
Advice for the Class of 2025?
Class of 2025, go do homework and hang out on campus. So many of my memories from freshman and sophomore years were from being in the Brew, Fishbowl, CSL and OSL, just doing homework and goofing off. Especially when human connection is so limited, please take advantage as much as you can!
"Molly is a dynamic, engaging student, and will be truly missed at Augie! She is a great exemplar of a liberal arts education, incorporating her religion and CSD majors to develop a more holistic understanding of others and our world. I will always remember how Molly anticipated a heavy reliance on technology during COVID-19, and independently created educational materials about healthy hearing and headphone use during her summer research internship with me, and then dispersed them to Augustana students as a student leader in OSL. Molly — thank you for your inspiration and dedication!"