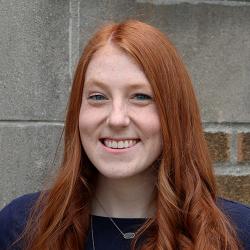 More Than I Imagined
Seniors reflect on accomplishments and look ahead
Natalie Smith
Graduation year: 2021
High school: Bartlett High School
Hometown: Bartlett, Ill.
Major: Elementary education (K-12 Reading Teacher Endorsement)
Activities: Campus Ministries Leadership Team, Ignite, Education Club, Project LEAD
Internship: Student teaching at Riverdale Heights Elementary
Post-grad plans: I am planning on teaching at the elementary level.
Why Augustana?
I knew I wanted to go to a school that was close to home and had a good education program. I had stayed at Augustana a few times for a summer camp I went to, and by the time I was going on college visits, it felt like home.
I loved the campus, felt a sense of community, saw a number of opportunities that I could take advantage of, and knew that the education program was really successful. I visited five other schools during that time, but none of them gave me the feeling I got at Augustana.
Are you where you thought you'd be when you first came to campus?
No. I came to campus knowing what field I wanted to go into, but I had no idea how much I would learn and how much I would grow as a student. I am a more confident person, and I have gained so much knowledge. I was truly interested in my classes, and I worked harder than I ever have before.
I have been able to get out of my comfort zone and apply what I've learned to my everyday life. Coming to Augie has helped me grow into an independent adult, and I feel ready to enter the next phase of my life.
Who helped you get to where you are now?
I have been blessed with a wonderful support system. These people have supported me through thick and thin, and they have helped me to become the person I am today.
I could have not made it through this experience without the support and guidance of my education professors, my friends (both from home and Augie), Pastor Priggie, the Campus Ministries Leadership Team, my peers from the elementary education department, the cooperating teachers I have worked with, and my wonderful family.
All of these people pushed me to be the best I could be, picked me up when I fell, and cheered me on throughout this entire experience. I cannot be more grateful for their undying support and the profound impact they have had on me.
College is not always easy, so it is really important to surround yourself with a good team that has your back.
Peak experience?
My peak experience was student teaching. I have wanted to be a teacher since I was in third grade, so it was really exciting to reach that point of the program. It made me realize that my dream is so close to becoming a reality.
I student-taught in a fourth grade classroom at Riverdale Heights Elementary in Iowa. I was nervous that COVID-19 would get in the way, but I was able to teach 20 students in a hybrid model. I learned so much, and my confidence in my abilities to be a great educator grew.
What surprised you?
I am surprised about how much I have grown. When I first came here, I was so shy and nervous. I was scared I wouldn't make any friends and that I wouldn't fit into the education program. Now as a senior, I can see just how wrong I was. I made so many friends, redefined my comfort zone, and I have completed the education program. I am so proud of how far I have come.
How did you use your Augie Choice?
I used my Augie Choice for my student teaching internship. I student-taught in Iowa, so it was helpful to have extra gas money. I was able to buy professional clothing to wear that helped me feel comfortable and confident. It was a great experience, and I am thankful to have had the opportunity.
What will you miss the most?
I will miss my professors and peers the most. Augustana has such a supportive community, and I have been blessed to make many wonderful friends on campus. There are so many opportunities to meet people from different backgrounds and people who share common interests.
The education department in particular taught me so much about working with others and building each other up. My peers and professors made such an impact on me and were a great support system for me. I will miss them all dearly.
Advice for the Class of 2025?
Do not doubt yourself. There are going to be ups and downs throughout your college experience, but do not doubt yourself or your abilities. You are capable of doing anything you set your mind to, and your professors are there and willing to help. They all want you to succeed. You can do this!
"It was my privilege to supervise Natalie during her student teaching experience. Although unable to stand alongside her students during the coronavirus pandemic, Natalie worked tirelessly to help them achieve success. She demonstrated great agility, resilience and persistence in her pursuit of the best instructional strategies possible. Her unbridled determination, exemplary organizational skills, keen insights and cheerful disposition were indispensable in the unprecedented and uncharted territory of teaching during a global crisis. I look forward to the extraordinary role Natalie will play in the lives of her students."