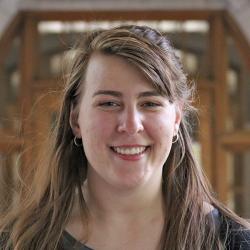 More Than I Imagined
Seniors reflect on accomplishments and look ahead
Sarah Anderson
Graduation year: 2021
High school: Homeschool
Hometown: East Moline, Ill.
Major: Music education – instrumental
Activities: Sigma Alpha Iota fraternity, National Association for Music Education, American String Teachers Association, Augustana Symphony Orchestra, Augustana Chamber Orchestra, Jenny Lind Choir
Internships: Student teaching at Bettendorf Middle School and Herbert Hoover Elementary School
Post-grad plans: Substitute teach in the Quad Cities while building my own private music studio for violin and piano students of all ages
Why Augustana?
I chose Augustana because I grew up in the area and attended musical concerts at Augustana frequently. I always looked up to the college musicians that I saw, and I aspired to be like them. When I decided to become a music teacher, I knew Augustana would be the best choice from what I had observed from the music program.
Augustana also helped me considerably with scholarships and with transferring all my credits from the community college I attended my freshman year.
Are you where you thought you'd be when you first came to campus?
I wasn't positive about what I wanted to do when I finished college. However, I am glad that after my three years at Augustana, I finally have a clearer idea of what I want to do with my life, thanks to the variety of classes I had to take. I am very grateful for the perspective classes that I took, which helped me to realize passions that I didn't know I had before.
Who helped you get to where you are now?
I am forever grateful to my professor and advisor, Dr. Dawn Farmer. When I had overwhelming doubts and anxiety, she was there for me to help me see the potential I had and encourage me to keep pushing forward.
She supported my ideas about what I wanted to do in the future, even though I changed my mind from time to time. She has been so kind and compassionate, and I am so glad that she came to Augustana at the time that she did.
I am also so thankful for one of my best friends, Luke McMillan. He encouraged me to come to Augustana and has been a friend to me when I needed it most. I look up to him as a music educator, and he has inspired me to be the best I can be.
I am also extremely thankful for my private lesson teachers, Dr. Stone and Dr. Schmidt, for helping me become a better musician and person every time I had a lesson with them.
Lastly, I am thankful for Dr. Chetel, the director of the orchestra. I had so much fun during rehearsals and learning new music that I never would have played or listened to otherwise — but learned to love and enjoy listening to even today. 
Peak experience?
One of my favorite parts of my Augustana experience was Christmas at Augustana. My sophomore year, I was able to both sing and play in this performance. I always get a thrill out of any musical performance I am a part of, but that particular one was absolutely incredible. I will never forget it.
I loved being able to make music on stage with almost every single member of the music program, many of them my friends, and letting the music overwhelm me in a wonderful way.
What surprised you?
Through my years at Augustana, I have grown as a leader and a collaborator. Before, I was always scared of speaking in front of my peers and doing group work. I was worried when I heard that classes at Augustana had a lot of those aspects, but after being involved in these kinds of activities, I started to actually enjoy speaking in class and working with classmates.
How did you use your Augie Choice?
I used my Augie Choice to pay for my expenses when I student-taught my final semester.
What will you miss the most?
I will miss seeing my professors who have helped me so much, and who always greet me so cheerfully in the halls. I will also miss the beautiful scenery that the campus affords, although I will definitely be walking through every once in a while!
Advice for the Class of 2025?
Be a friend. Sometimes it is hard to make friends, especially if you are a transfer student, and it feels like everyone knows everyone else already. But don't let that stop you from being friendly to everyone you meet. Chances are that you will meet your best friend!
"Sarah has been such an inspiring student to work with! She has a gift for taking feedback and immediately incorporating it into a new technique or approach and that willingness to experiment and be in the moment has expanded her capacities as a musician and a teacher. I will miss her professional, curious and kind presence in Bergendoff and the orchestra program here at Augie, and I know these qualities will make her an inspiring teacher for her own students going forward!"