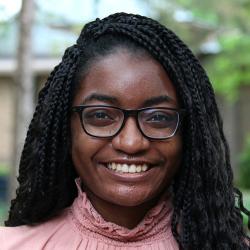 More Than I Imagined
Seniors reflect on accomplishments and look ahead
TaJania Jenkins
Graduation year: 2021
High school: University High School
Hometown: Bloomington, Ill.
Major: Biology
Minor: Studio art
Activities: Black Student Union, Ladies of Vital Essence (L.O.V.E.)
Post-grad plans: Attend University at Buffalo for a master's in pathology
Why Augustana?
I chose Augustana because the environment of the campus is similar to my hometown. I felt very comfortable on campus when I did my first campus tour back in 2017. Augustana also has a very great science program that includes a variety of courses, labs and supportive faculty members.
Are you where you thought you'd be when you first came to campus?  
When I first came to campus, I thought that I was going to major in biochemistry and graduate with lots of honors. I did not accomplish any of those things; however, I am thankful I did not accomplish these things because I would not be the person I am today.
On the other hand, I knew that I was going to be successful in whatever I decided to do during my undergraduate years, and I am extremely proud of myself and the work that I have done here.
Who helped you get to where you are now?
Ashley Allen helped me by giving me many opportunities to get involved with diversity events on campus, and she helped me keep the legacy of the Ladies of Vital Essence (LOVE) alive when I became the president of the group this year. Not to mention, she conducted my admission interview in 2017, so she has always been there to help and support me.
My advisor, Dr. Kimberly Murphy, helped me out tremendously through great advice and guidance. I am incredibly grateful to have her as my advisor. Dr. Dara Wegman-Geedey also helped me by believing in my scientific abilities and confirming that my life's purpose is in the science field.
I also really appreciate Joe Giffen in the CORE office for helping me out with all of my graduate school applications and giving me excellent advice for life after college.
Peak experience?
My peak experience was when I decided to change my major from biochemistry to biology. It truly felt like a weight was lifted off of my shoulders, and my homework did not really feel like homework. I wanted to attend to my biology courses and labs, and build long-lasting connections with faculty members.
Changing my major helped me find my calling in life and which career in the science field is right for me.
What surprised you?
How involved I ended up being on campus surprised me a lot. In high school, I was really quiet and not a leader. Being at Augustana helped me gain great leadership qualities and communication skills that will be very helpful in graduate school and my future career. I also became more vocal about issues that are important to me.
How did you use your Augie Choice?
My original plan for my Augie Choice was to use it for business attire and food while I was working on a research paper with my advisor. Unfortunately, due to COVID-19, I was not able to use my Augie Choice.
What will you miss the most?
Hanging out with my LOVE sisters and Phoenix brothers. We are all really close, and I feel a strong sense of belonging when I am with the LOVE girls and Phoenix boys.
Advice for the Class of 2025?
You do not need a perfect GPA, internships, honors or a high test score to be successful in life. As long as you give your best effort, talk to your professors for help and find your purpose in life, you will be successful in life and in any career that you choose.
"I remember meeting TaJania right before she made a decision to attend Augustana. I have had the opportunity to watch her grow and find her way as a leader the last four years. As the president of Ladies of Vital Essence, I have seen her passion and influence to successfully carry out the legacy of sisterhood and community. I'm excited about her future, and I know that TaJania will make an impactful difference in this next chapter of her life."