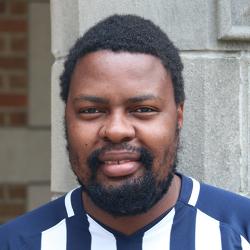 More Than I Imagined
Seniors reflect on accomplishments and look ahead
Tatenda Nyoni
Graduation year: 2021
High school: St. Anthony's Musiso High School
Hometown: Triangle, Zimbabwe
Majors: Applied mathematics, engineering physics
Activities: Augustana Physics and Engineering Society (APES), African Students Association, Soccer Club
Post-grad plans: I plan on working for three years to gain real-life experience while utilizing my Optional Practical Training and going to graduate school to pursue aerospace engineering.
Why Augustana?
In addition to having amazing scenery around campus and great scholarship opportunities, Augustana gave me the opportunity to easily pursue two majors, which gives me a range of choices when it comes to choosing an area of specialization.
More so, by nature of being at a liberal arts college, I get to learn about other fields as well, which just enriches my depth of knowledge and the diversity of conversations I can engage in.
Last but not least, the faculty and staff are just so amazing. I love it here.
Are you where you thought you'd be when you first came to campus?
I can see significant growth and mental transformation over the course of my time at Augie. I am beyond where I thought I would be in terms of my knowledge of socio-political issues that affect our societies and am now a better ally.
Academically, I have been given the necessary tools to advance myself and prepare for the working environment. In a nutshell, I am confident that I am where I envisioned myself four years ago.
Who helped you get to where you are now?
My advisors played a pivotal role in making sure that I was taking the right classes at the right time.
The CORE office was one of the most significant departments because they organized job fairs for us and allowed us to have conversations with different companies.This helped me understand and define where I wanted to be in the workforce and the steps I needed to take to get me there.
Regular meetings with career coaches ensured that I stayed in touch with what was happening in the job industry, and they helped scout some of my strengths that I did not recognize myself.
Organizations such as APES allowed me to showcase my creativity and helped unleash my full potential.
It would be unfair to say there was a singular person who took me where I am right now; rather it was a collective effort of the campus that ensured that I prospered on the things that mattered, such as my academics, my well-being and the well-being of others. Reflecting back, I understand why it's the Viking Family.
Peak experience?
My peak experience was when the entire campus had a campaign about mental health. My heart just dropped to the ground because I had never seen such unity. I was very impressed as to how students fully acknowledged each other's struggle and made efforts to help tackle mental health. As a result, a lot of students who have mental health issues have been comfortable talking about it and seeking professional help.
What surprised you?
I was surprised by the student-professor relationship. The professors love their jobs, and you can tell that they have a passion for transforming people's lives through education by how they interact with students. Having students understand that professors care for them motivates students to perform great because they can see that success is a joint effort.
What will you miss the most?
I will miss the environment the most — the feeling of knowing that this entire unit deeply loves and cares about me is something that cannot be replaced. The small interactions with faculty, the small conversations I had with people that made each of my days at Augie memorable are things that I will definitely miss. Of course, not to mention the great food from the CSL.
Advice for the Class of 2025?
Conquer with affection, for love always wins. A ship will never sink unless seawaters get onboard and drown it. Lastly, do not be conformed to this world, but be transformed by the renewal of your mind.
"Tatenda is a terrific person who always brought a unique perspective and asked insightful questions in class. He has always demonstrated a confidence and maturity as he seized opportunities from serving as project leader in his engineering design course to volunteering to help design a new digital thermal comfort tool for a local company. It has been great to watch his growth, and I will be interested to see where he goes next."