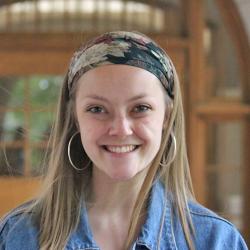 More Than I Imagined
Seniors reflect on accomplishments and look ahead
Taylor Curley
Graduation year: 2021
High school: Fulton High School
Hometown: Fulton, Ill.
Major: Biology
Minor: Ethics
Activities: Varsity volleyball, Jenny Lind Choir, Chi Alpha Pi sorority
Internships: River Bandits Scholar (canceled due to COVID-19), Agri-King
Post-grad plans: Attend Rush University to obtain my master's in nursing
Why Augustana?
I chose Augustana because I knew it was going to give me all the opportunities to be who I wanted to be. At Augustana, you are not just a number, you are a person. You are able to build quality relationships with faculty and staff, as well as be involved in almost anything you want.
Here I did not just have to be a student or a student-athlete. I got to be Taylor, student, athlete, singer, volunteer, world traveler and member of Greek life.
Are you where you thought you'd be when you first came to campus?
I am actually more than what I thought I would be when I first came to campus. Augustana has helped me become more confident in myself and my abilities. It has made me feel comfortable in being vulnerable. It has pushed my limits and challenged me, and because of that I have grown to be even more than what I thought was possible.
Through the help of Augustana, I am now pursuing my master's in my dream field at my dream grad school.
Who helped you get to where you are now?
I owe so much to my parents; their constant love and support are the reason I am who I am today. They have pushed me to be the best I can be and instilled in me values that have allowed me to succeed. As much as I owe to them, I have met countless people at Augie who have also helped me.
My professors have played a huge role. They have challenged me, but even more so they have supported me throughout these four years. They are ready and open to answer any questions, are there for you if you need it, and truly want you to succeed.
Not only my professors but my coaches and teams also have helped me. If I did not have that support system behind me, then I would not have had the confidence or willingness to pursue some of my goals.
Finally, I owe a lot to my friends. They are the ones who have made me feel like it is okay to be myself and that I belong. Their constant support and pushing me to become a better person have allowed me to be more of the person I have always wanted to be.
Peak experience?
My peak experience would be my J-term during my junior year. To start off January and enter the new year, I had the privilege of traveling to Brazil with my volleyball team for 10 days. In Brazil, we played three local teams, visited a few beaches, ran a volleyball camp and even got to stay in a resort.
After returning from this trip, a few days later I was able to study abroad to Guatemala. In Guatemala, I got to explore the country and learn about the people there from the people themselves.
What surprised you?
I was the most surprised by Greek life. When I came to campus, I said I would never be in a sorority, but then I rushed and ending up finding a group that inspired me and who made me feel like it was okay to be myself. Now in my senior year, I am living with three girls from my sorority and even found some of my best friends.
How did you use your Augie Choice?
I used my Augie Choice to be able to study abroad. I had the privilege of traveling with my classmates to Guatemala to examine the psychological development of children and families, specifically looking at factors that impact risk and resilience.
What will you miss the most?
I will miss the people the most. The relationships I have built here are unlike any I have had in my life. The people I have met here have changed my life for the better. They have been by my side for all of the good times and have even lifted me up during the bad ones. It is going to be so strange not seeing all of these wonderful people every day anymore.
Advice for the Class of 2025?
Find comfort in asking questions. It is okay to not know. It is okay to fail. It is okay to ask for help. It is how you respond to that failure and that not knowing that matters the most.
"Taylor has been a great role model for her teammates on the Augustana volleyball team. She demonstrates our values of selflessness and unconditional commitment. Taylor is always there for her teammates and understands the importance of being a great teammate. She is highly respected and admired by all of those who know her. Her success in music, volleyball and in the classroom is due to her work ethic, responsibility and determination. Taylor has become a confident person who will achieve so much success in the future!"