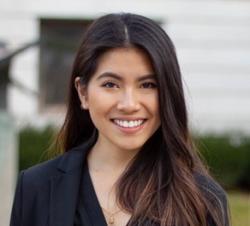 More Than I Imagined
Seniors reflect on accomplishments and look ahead
Tracy Pham
Graduation year: 2021
High school: Arrowhead High School
Hometown: Hartland, Wis.
Majors: Anthropology, neuroscience, pre-medicine
Activities: Psi Chi (psychology), TriBeta (biology), Mortar Board, Psychology Club
Post-grad plans: Pursue dual-degree M.D. and M.P.H. at the University of Illinois-Chicago College of Medicine
Why Augustana?
Plainly put, the campus gave me good vibes. What drew me to Augie was its emphasis on interdisciplinary education. I had many interests, and I wanted to be in an environment that would allow me to explore and intertwine my areas of study. The people I met were welcoming and the black squirrels blew my mind. That sealed the deal for me.
Are you where you thought you'd be when you first came to campus?
Honestly, yes. I actually planned to major in neuroscience and anthropology with a focus on addressing health inequity as a physician in an urban community. But as everyone likes to say — it is not about the destination, it's about the journey. I got to meet some incredible people who continue to inspire me. Without the help of my friends and faculty, I would not have been able to accomplish what I have in my time at Augie.
Who helped you get to where you are now?
Not to make this sound like an Oscar acceptance speech, but I want to thank my friends, my partner and my family for unconditionally supporting me.
Entering a historically male-dominated field as a WOC is hard. Frankly, at times I let the imposter syndrome get to me. So, I want to take this space to also thank the faculty who have been important to my professional and personal growth.
Throughout the years, certain members of the faculty were my biggest support system. They were my source of advice, my purveyor of snacks, and at one point — a thermometer. Although I have thanked them all personally, I want to thank them all again. I really would not be where I am now if it were not for them.
Peak experience?
If I would have had the opportunity to actually experience these things, I would have said presenting at conferences in Chicago and Denver or my summer internship with MD Anderson at the Texas Medical Center. But COVID-19 canceled these opportunities.
Instead, my most memorable experience at Augie was serving as an EMT in Scott County during the summer of 2020. 
What surprised you?
Due to the small community at Augie, I knew that I would find people I could connect with at this small school, but I was surprised by how important these people would be to me. I guess that is what happens when you are quarantined in a house and adopt three cats together.
How did you use your Augie Choice?
Unfortunately, I wasn't able to use my Augie Choice like I wanted to in 2020 due to COVID-19, but I was still able to use it to finance my research project with my research partners.
What will you miss the most?
I am going to miss the people I met here. Although I intend to stay connected, I will miss being able to see them regularly.
Advice for the Class of 2025?
Do not be afraid to take up space. You deserve to be heard. I came to Augustana thinking that I had to be small in order to be successful in my field. I am leaving Augie intending to be heard. Also, stop kneecapping your sentences.
"Tracy gets the meta-level connections between different disciplinary ways of analyzing the world, and took her Augustana education far beyond 'just' learning the data, skills or techniques of a given major. She understands how health and wellness are embedded in cultural and social systems, and she sees a career in medicine as a way to improve the lives of others. In that way, Tracy exemplifies the spirit of a liberal arts student: someone who sees the bigger picture and has developed a broader purpose."